Something To Tide Them Over
Eggs and Ham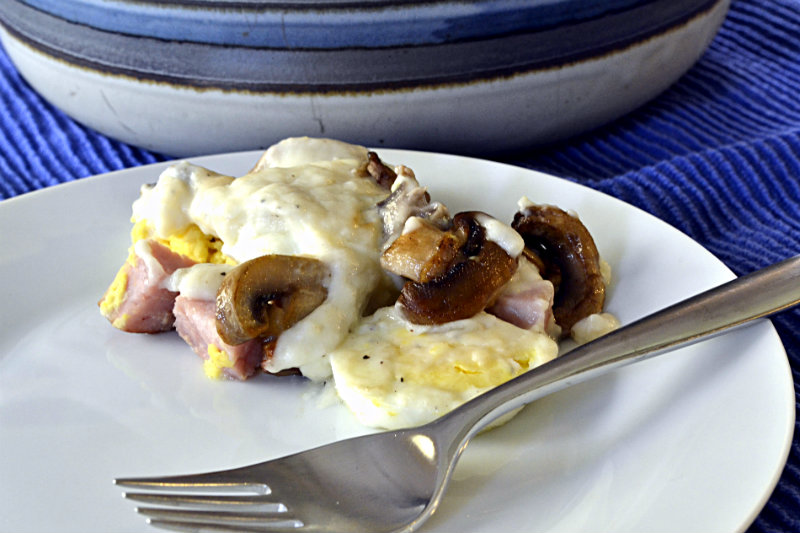 A Make Ahead Brunch … Make this the day before company arrives. Did I say microwave! Yes, you just might need to use the microwave for heating if your oven is stuffed. This is delicious and rich. They won't be hungry 'til dinner.
Recipe
Bake 350 degree F for 20 minutes or until heated through
Serves 5-6 adults
8 Ounces of fresh mushrooms
6 Hardboiled eggs
1 Cup of cooked ham
4 Tablespoons butter
4 Tablespoons all purpose flour
2 Cups milk
Salt and Pepper to taste
Sauté mushrooms in 2 tablespoons of butter until golden. Set aside.
Have eggs already hardboiled. Peel and cut across in approximately 1/4″ slices.
Cut ham into approximately 1/2″ squares.
Make a béchamel sauce. Melt remaining butter in a sauce pan. Add flour and stir until bubbling. Slowly add milk while stirring. Add salt and pepper to taste. Do the béchamel last to avoid sauce becoming thick in the pan. It does not layer well after cooling.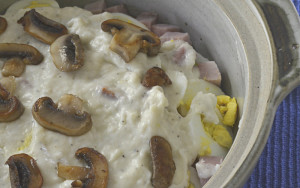 This is layered beginning with the ham, then eggs, sauce and mushrooms. I made my sauce first and it did not give an even finish when layered. Should I cover it up with a cornflake topping? Not this time. Pop into the oven for 20 minutes, and then it is ready. No room in the oven … microwave until heated.
Be ready for the richness of Eggs Benedict! Serve with my coffee cake. Or try with a sweet roll, toast or English muffin.