Basic Marsala Sauce Makes 3 Dinners
Filet Mignon with Marsala Sauce
Meatballs Cooked in Marsala Sauce
Chicken Marsala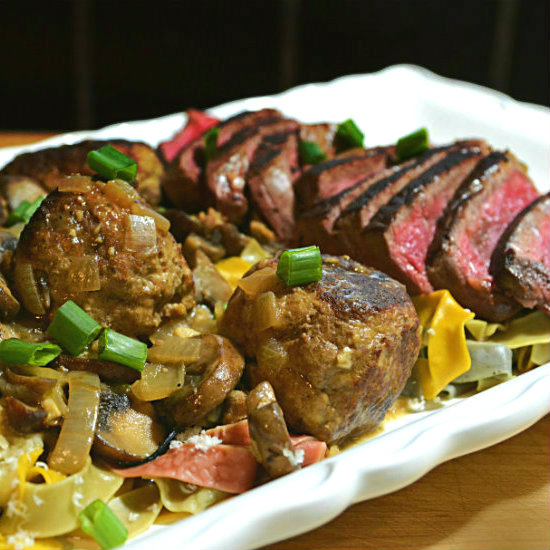 This simple recipe makes up beautifully. I've plated two Marsala Sauce Dinners to reveal the diversity of this recipe. Change two ingredients and it becomes Chicken Marsala. This recipe is one to put to memory.
Working 14 hour days as a single parent leaves little time for cooking. Creating a repertoire especially of versatile recipes like this one makes perfect sense. Don't get me wrong, we had plenty of fast food in those days. Just ask my youngest ones. I wanted to cook but after hours of treating patients I just didn't have the energy. Luckily we all survived but I would say not without some earmarks. Isn't that what gives us character! Truly looking to help those parents out there that find themselves in my old shoes.
We all know now that wine doesn't burn off during cooking at least not all of it. The shorter cooking times can guarantee you're going to be consuming some alcohol. If you are concerned there are some things you can do with this recipe. A substitute for Marsala is very difficult to accomplish. You might try adding a little white grape juice and lemon juice or vinegar. Adding fruit such as grapes or figs sounds delicious. In a pinch the Marsala can be eliminated and broth substituted.
I hope you enjoy this delicious recipe over and over.
Recipe
1-2 Tablespoons olive oil
1-2 Tablespoons salted butter
1/2 Large yellow onion-diced
1 Large shallot-diced
1 Large garlic clove-minced
10 Ounces Cremini mushrooms (or white or combination in a pinch)
1/2 Cup Dry Marsala wine
3 Tablespoons all purpose flour
3 Cups beef broth (use chicken broth for Chicken Marsala recipe)
1/2-1 Teaspoon salt
1/4 Teaspoon pepper
Pinch oregano (optional)
1/4 Scallions-sliced thin or chives for those company filets (optional-garnish)
These are the basic sauce ingredients. The preparation varies a little with each recipe. If you are preparing the Chicken Marsala add 1 1/2 pounds of skinless and boneless breasts to the recipe. For the Filet Mignon add 4-6 small filets to the ingredients. And for meatballs add the following:
1 Pound of 85% ground beef (ground turkey can be substituted or half and half)
Large clove garlic-minced
3 Eggs
1/4 Cup fine bread crumbs (Italian seasoned or not)
1/4 Cup grated Parmesan, Asiago or Romano cheese
1/2 Teaspoon salt
1/4 Teaspoon pepper
(Did I mention? Trader's has great turkey meatballs. Advised by my daughter.)
Preparing the sauce:
Heat the olive oil in a large skillet over medium heat. Add the onion and sauté until tender. Add the garlic at the last minute sautéing the garlic for about one minute.
Remove the onion/garlic mixture to another dish. Add the butter to the skillet and a little oil if necessary. Add the mushrooms and brown. Remove the mushrooms to the onion/garlic dish.
*This step differs with each but for basic add a little more oil and butter to the drippings in the skillet and heat over medium/low. Add the flour and stir around the skillet until it bubbles and catches all the dripping and oil. Slowly add the room temperature broth increasing the temperature to medium and stirring constantly. (Another option is to deglaze the skillet with the marsala after sautéing ingredients, especially after prepping meats in the skillet, then add flour to a little of the room temperature broth before adding broth to the skillet to avoid lumps).
Add the salt and pepper (and oregano if using). This sauce is quite good without much seasoning because of caramelizing. Add the marsala, mushrooms and onion/garlic mixture to the skillet and bring to a simmer.
Lower the heat after the ingredients begin to simmer. Simmer without a lid stirring occasionally until the sauce is the consistency you like.
Filet Mignon:
Pan sear steaks and serve with Marsala Sauce ladled on top or serve steak on top of ladled sauce. Our filets were served rare, our favorite, pan searing for 6 minutes total and allowing time to set about 5 minutes, before slicing. Steaks were 1 1/2 inch thick. For tips on pan searing steaks check out this post, Bearnaise Sauce. Rather than going by time on the heat it is now recommended to use a thermometer to check doneness. 120F-rare, 130F-medium rare, 140F-medium, 150F-medium well, 160F-well.
Meat Balls:
*After forming meatballs, the recipe makes 8 large, brown in the same skillet used for the onion and mushrooms. the meatballs will not be done at this point. Remove the meatballs and set aside. Pour off any excess fat but leave stuck on drippings. Use the Marsala to deglaze the pan. Follow the instructions above. When simmering add the meatballs to the other ingredients. Simmer for 40 minutes to cook through the meatballs. Place a lid if the sauce begins to evaporate too much.
Serve with tagliatelle cooked per directions. Dot tagliatelle with butter and sprinkle with freshly grated Parmesan. Serve meatballs and sauce over the pasta.
Chicken:
*Coat the chicken with a little flour. Salt and pepper while cooking. Brown quickly in the skillet used for the onions and mushrooms adding oil if needed. Brown quickly to avoid overcooked chicken. The chicken will not be done yet. Remove the chicken and set aside. Deglaze the skillet with the Marsala. Follow the directions above for basic sauce except change out beef broth with chicken broth. During simmering add the chicken. Make sure chicken is submerged in the sauce. Do not cover. Simmer for 20-25 minutes.
Serve with tagliatelle cooked per directions. Dot tagliatelle with butter and sprinkle with freshly grated Parmesan. Serve the chicken and sauce over the pasta.
Enjoy!