Meat or Meatless Lasagna Rolls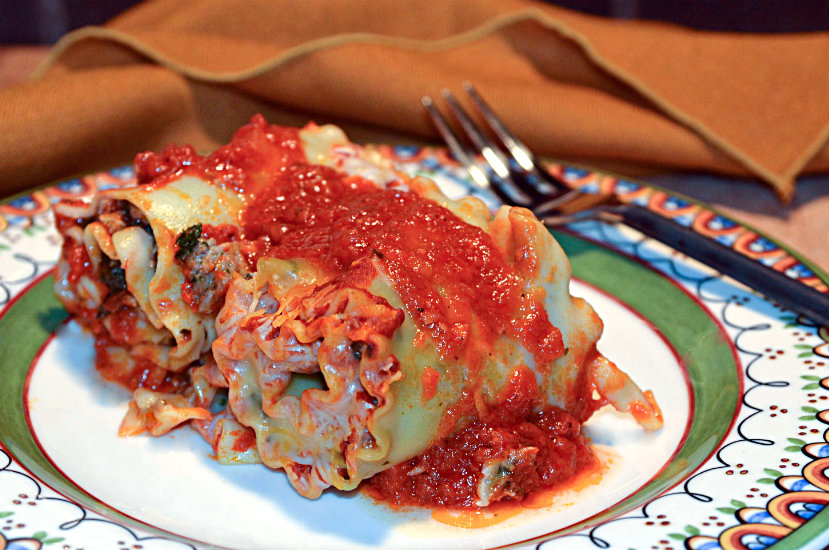 Lasagna with a new look. Meat or Meatless, this is perfect! Bake the Lasagna Rolls straight up for an impressive look or seam side down for a sauce drenched variation. There's just a bit of cooking for the meat filling before baking. This is just one of those dishes I have fun with … often preparing differently each time. Make it your own … fill with your favorites.
Recipe
Preheat oven to 375 degrees F
Bake in an oblong baking dish with 3-4 inch sides, cover the dish with parchment & then foil
Bake about 25 minutes
4-51/2 Cups of your favorite sauce (a smooth marinara sauce does best … good quality store bought works
1 Pound lasagna noodles yields 12 count, 12 lasagna rolls
3 cups of filling per 6 lasagna noodles
2 Cups grated mozzarella cheese
Spinach Filling
1 Pound frozen chopped spinach-defrost and squeeze out liquid
1/2 Cup finely shredded Parmesan cheese
1/2 Cup basil pesto
1/2 Cup ricotta cheese
1/2 Cup sour cream
1 Large egg
1/4 Teaspoon salt
Mix.
Meat Filling
2 Tablespoons olive oil
3 Garlic cloves-minced
1 Pound ground turkey with Italian spices or Italian turkey sausage or Italian sausage
1/2-3/4 Teaspoon salt
1/4 Cup finely shredded Romano cheese-Parmesan in a pinch
1/2 Cup ricotta cheese
1 Large egg
Heat olive oil over medium heat and sauté the garlic for 1 minute.
Add the meat (remove sausage from casings) to the garlic and breakup the meat as it cooks. The meat should be in fine crumbles when finished. Cook until no pink noted. Drain meat of fat and set aside to cool.
Measure all other ingredients in a bowl. Add the cool meat and mix with your hands, breaking up meat as you go.
Roll Up Directions
Cook the pasta according to directions. Do cook in lots of salted water, 1-2 tablespoons salt. Drain the pasta and lay out on parchment paper. Careful of the heat. If you wait too too long the pasta may be hard to separate without ripping.
Place about 1/2 cup of filling down the length of each lasagna strip. Spread evenly. Roll each firmly but avoid squeezing out the filling. Place into your baking dish that has two cups of pasta sauce spread over the bottom. Set on end or seam side down.
Pour the remaining sauce over and around the pasta rolls. Cover and bake.
Remove the cover, sprinkle with mozzarella and flash under broiler for a minute if you like. Or simply bake for an additional 5 minutes.
Note: Each filling should create 6 rolls. Finished product is 12 Lasagna Rolls. Optionally serve the straight up rolls with extra sauce on the side.