Pasta Sunday
Meatloaf Or Meatball Stuffed Shells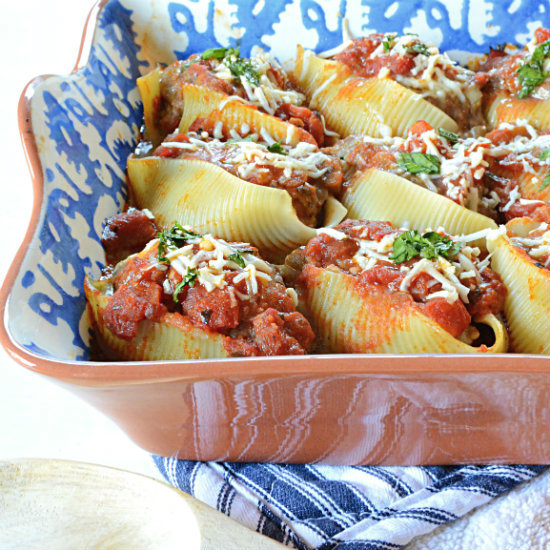 Our family never complains Spaghetti Again! It's just one of our very favorites. But if your family needs a change up on Pasta Sunday try this. It's so simple and fast. And what a hit! Use your or my favorite meatloaf or meatball recipe, stuff the al dente cooked shells, and bake in marinara. That easy!
Mangia! Mangia!
Don't forget a great Chianti!
Recipe
Preheat oven to 350 degrees F Or (This recipe can be completed totally on the stove top.)
Here is yet another meatball recipe. Check out my Italian Category for others.
3/4 Pound of 85-90% fat ground beef
1/4 Pound Italian sausage-mild (remove from casing)
1/4 cup fine bread crumbs-unseasoned
2 eggs
1/2 Teaspoon salt
Generous 1/4 cup finely chopped yellow onion
1/4 Cup grated Parmesan cheese (more for sprinkling over stuffed shells)
1 Tablespoon finely chopped Italian parsley (more for garnish on completed dish)
Additional ingredients:
12 Large shells-cooked to al dente per package instructions
25 Ounce jar of marinara or use your homemade Or check out my Italian Category for others.
8 Ounce can tomato sauce
Heat the marinara and tomato sauce together in a skillet large enough to accommodate the stuffed shells.
Mix the meatball ingredients together until well incorporated. Fill the al dente cooked shells.
Remove a portion of the heated sauce about 1/3 to another container. Place the stuffed shells into the skillet with the remaining sauce. Now spoon over each shell the 1/3 sauce that you put aside. Cover and simmer very low on stove top until done … about 1 1/4 hour. Or cover and bake in the oven for 35-40 minutes.