Spicy Mexicali Casserole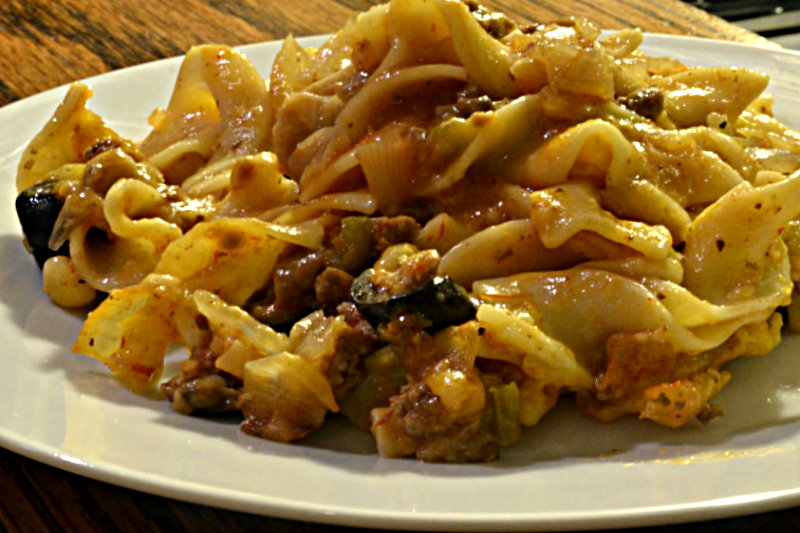 Family is visiting and the Mexicali Casserole was requested for dinner. The Mexican spices are not too hot for the kids and the flavor is amazing. So rich! It's one of our family favorites! If you are into cheese, egg noodles, and Mexican spices you are going to love this too!
Throw out the boxed instant hamburger meal and try this!
recipe
Makes 6 servings or 4 servings with seconds
Bake 350 degrees F for 30-40 minutes until bubbling
1 Pound lean hamburger meat-I used ground sirloin
1 Large onion-chopped-sautéed in 1 tablespoon olive oil
1 Clove garlic-minced
I Can of cream of corn-large can, approximately 15 ounces
1/2 Pound of fresh mushrooms-sliced and sautéed, or in a pinch-8 to 10 ounce jar of sliced mushrooms
15 Ounce jar of your favorite salsa, mild or medium
1/2 Pound grated Colby and Jack Cheeses-1/4 pound each approximately
1 Tablespoon chili powder
1 Tablespoon McCormick Mexican Spices or your favorite combination Mexican spices
10 Ounce can olives-drained and sliced
7 Cups of uncooked wide egg noodles-cooked according to package directions and drained
Sauté onion for a few minutes until tender. Add minced garlic and sauté for another minute.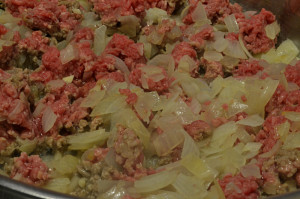 Add the hamburger to the sautéed onion and garlic and brown. Drain off excess fat.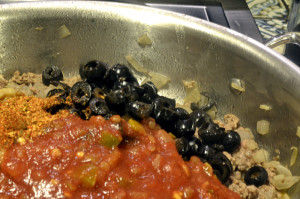 Add all the ingredients to the hamburger mixture except for the noodles, corn and cheese. Need help with sautéing mushrooms? Refer to my London Broil Dinner Menu for the sautéing except leave off additional ingredients, wine, garlic, etc. It wouldn't really be a bad thing if you added these, however.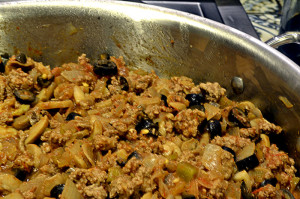 The meat and ingredients have been mixed. Set aside.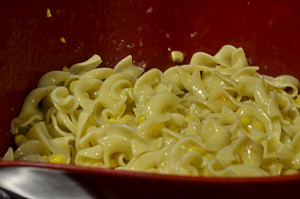 Corn has been added to the cooked noodles. Now to add the meat mixture.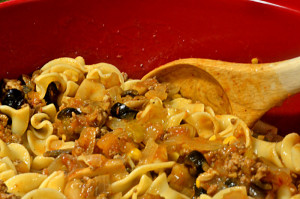 Meat mixture added to the noodles. Now for the last ingredient, cheese.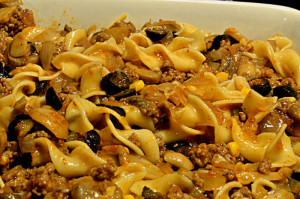 Layer one-half of the total mixture into greased casserole or oblong dish. Sprinkle with one-half the cheese. Add the second layer of mixture.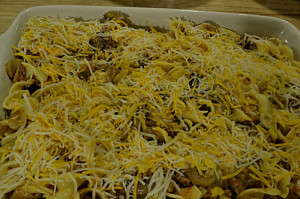 Top with remainder of cheese. Now bake.