Mexicali Pasta Perfect Salad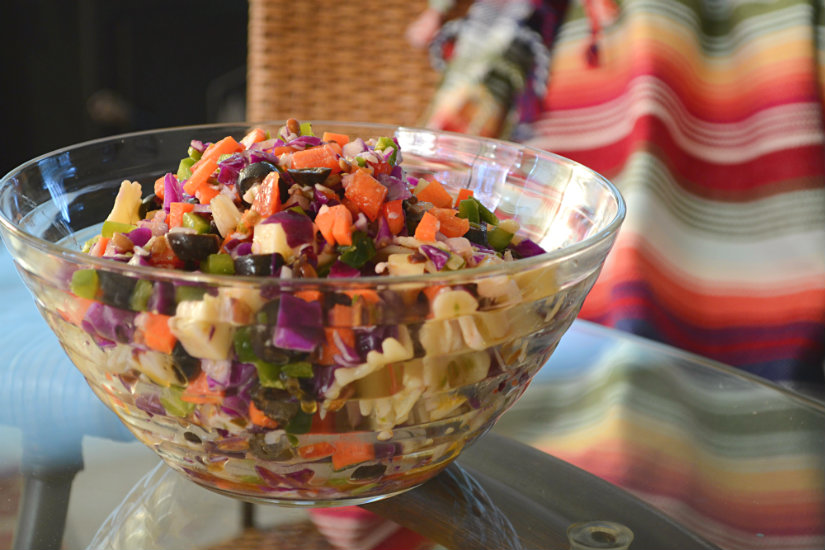 Spicy rich Mexicali Pasta Salad … and not forgetting delicious! This hearty filling vegan salad will satisfy meat lovers too. After a stressful day at work sometimes I need food with a crunch. Ha! This is another versatile recipe. Making small substitutions to make it your own is a good thing. Enjoy!
Recipe
Serves 6-10 depending if main course or side
8 Ounces Pasta, fusilli, farfalle, spiralini or your choice-cooked according to al dente instructions, drained well and small amount of dressing added, stir and set aside
Dressing
3/4 Cup olive oil-I almost always use extra virgin, well, except in baking
1/4 Cup cider vinegar
1 Healthy tablespoon of sugar
1 Teaspoon salt
1/4 Teaspoon pepper
3/4 Teaspoon Mexican spices (I like Schillings, no MSG) or chili powder
1 Jalapeño-seeds and membrane removed and roughly chopped
1 Clove garlic-roughly chopped
Blenderize these ingredients until well mixed and jalapeño and garlic are pureed.
Salad
2 Generous cups of chopped red cabbage
1 Red bell pepper-diced
1 Green bell pepper-dice
1/2 Red onion-diced Hint: The larger, flatter ones are sweeter.
4 Ounce can sliced black olives-drained
3 Medium carrots-diced
2 Jalapeño peppers-seeds/membrane removed and diced
1/3 Cup Roasted sunflower seeds
8 Ounces pepper jack cheese-half cut in small cubes less than 1/2 inch square and the other half shredded (Vegan cheese may only be available in shredded. This works.)
Optional ingredients: chopped tomatoes, chopped avocado. I recommend adding these at the end of the preparation or serving on the side. The salad will keep longer (for leftovers) without adding these.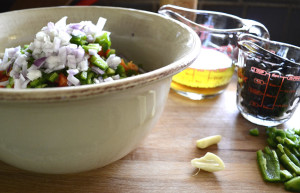 While the pasta is cooking put together the dressing first.
When the pasta is cooked al dente, drain and place in a bowl large enough for all ingredients. Pour 1/4 cup of the dressing over the warm pasta. Stir until the pasta is coated evenly. Set aside.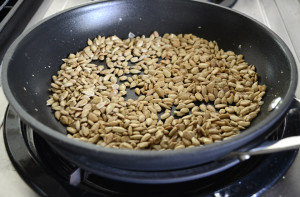 Roast the raw sunflower seeds, if not purchased roasted, in a small skillet over medium heat until they turn lightly brown.
Add all the chopped ingredients to the pasta along with the cooled roasted nuts. Add the salad dressing and mix. Cover and refrigerate for at least one hour.
Eat up.