A Little Surprise In A Much Loved Cookie
Mexican Wedding Cakes With Chocolate Surprise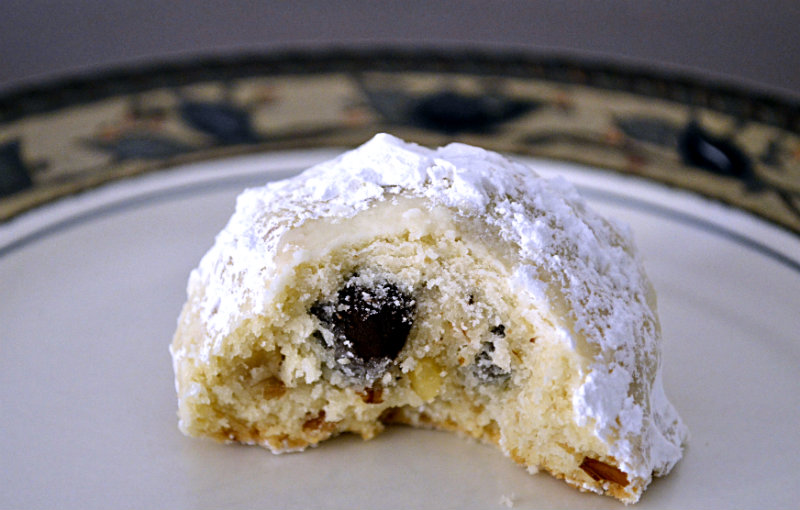 Try this Mexican Wedding Cake Cookie with a milk chocolate kiss, my favorite! This is one of those cookies that has a long history with me. My first experience with this recipe was not really appreciated. And in fact, for the reasons this cookie is popular, subtle flavor with extraordinary richness, my parents found it difficult to enjoy. It was just not a chocolate chip, peanut butter or oatmeal cookie. But after years of making these I was asked to bake them, dozens and dozens, for a reception my mother was giving. This cookie now surpasses many other cookies in popularity for my family.
I added a chocolate kiss to the center of this cookie to surprise my very young children. It isn't a practice now. In fact, the children prefer the Mexican Wedding Cake without alteration!
Today I decided to try dark chocolate. To my surprise the dark chocolate steals the taste of the cookie. I recommend a milk chocolate instead. And baking a few without this alteration for the purists.
This is another recipe where you are likely to have all the ingredients in your pantry most of the time!
Recipe
Makes 1 and 1/2 dozen 2 inch cookies
Bake at 350 degree F until the bottom edge begins to turn light brown … about 15 to 20 minutes
2 Cups all purpose flour
1 Cup room temperature butter
1/2 Cup powdered sugar and more for rolling
1/4 Teaspoon salt even if using salted butter
1 Generous teaspoon vanilla
1/2 Cup chopped nuts
Use 2-3 large chocolate chips or 1 candy kiss per cookie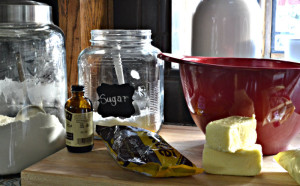 Get all ingredients together. This can be put together by hand.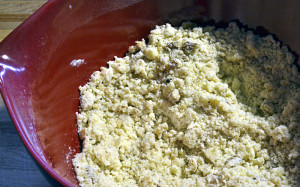 Cream butter and add vanilla. Add remaining dry ingredients and mix. This is the look of the batter after all has been mixed.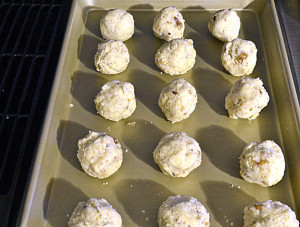 I use an ice cream scoop to measure each. Lightly squeeze the batter in your hand to form a ball. This dough does not roll around in your hand. Form the dough around each chocolate. Place on parchment paper to bake. I love this new cookie sheet. I use it often without parchment.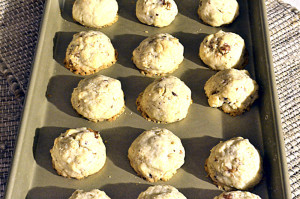 Lightly brown around the edges. Cool slightly then roll cookies in powdered sugar twice. The excess sugar will smooth from the butter working into the sugar.