Mini Pumpkins Stuffed with Smoked Turkey
& Red Lemon-Butter Sauce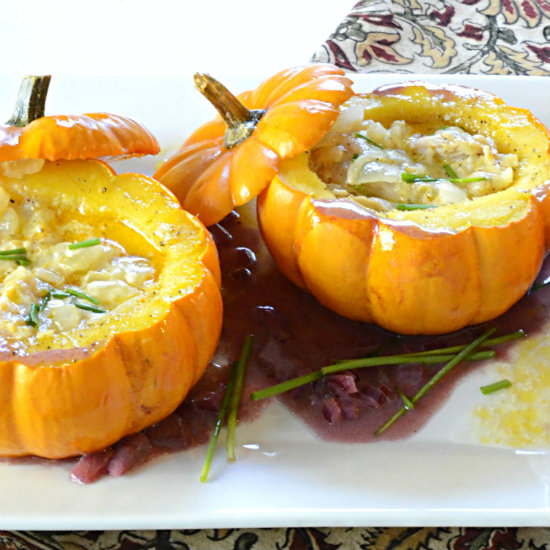 From one of my favorite restaurants right here in my home town. The Vintage Press has been around for many years. The food is 5 star. I love this family owned restaurant for so many reasons. Andy and I had our first date at the Vintage Press. Andy said he knew he was in trouble when I ordered the most expensive entree on the menu, haha. But in my defense (my husband was a prosecutor) we weren't into wine in those days. Now I appreciate a wine that just might be more expensive than the entree. I have so much history here, Mother's Day Brunches, a Wedding Reception, Birthdays, Valentine's Day, Thanksgiving, and many dinners & brunches in between. The menu fluctuates very little except during holidays but what this means is the signature dishes are perfected. And the Chef shares many recipes! Who does that! I have to admit while my execution is very very good with this recipe the Chef has me beat. I changed the recipe up a bit and I will let you know where. I prefer turkey, in general, over chicken … just because. And I teased the idea of teaming the smoked turkey with provolone, there's history there, but provolone just doesn't work as well as Emmental or Jarlsberg. This is a seasonal dish at The VP. And I must say their pumpkins must be brought in special. They're meaty not stringy. If you haven't pumpkins this stuffing can work in acorn squash. And it goes without saying the Red Lemon-Butter Sauce is versatile as well. Enjoy!
Recipe
Preheat oven to 350 degrees F
Makes six Mini Stuffed Pumpkins
6 Baby pumpkins
Olive oil
1 Small yellow onion-diced small
1 Tablespoon butter
6 Ounces smoked turkey broken into small bite size pieces (original recipe uses smoked chicken)
2 Tablespoons chili sauce-I used tabasco, this gives a little heat. You will taste the chili used so choose your favorite and use less if desired
6 Ounces Emmental or Jarlsberg (original recipe) Cheese-grated
1/2 Teaspoon each, Salt and Pepper or to taste
6 Ounces of heavy cream
Garnish with chives
*And serve with Red Lemon-Butter Sauce, recipe below (optional) The VP uses a white wine in their Lemon Butter Sauce. I just prefer the red wine version. My sauce differs enough to call it my own.
Slice off the tops (keep tops) and clean each pumpkin of seeds and the stringy interior that holds the seeds. (If you know of an easy way to remove these tops please let me know.)
Salt and pepper the interior of each pumpkin. Rub each exterior with olive oil including lid. Set aside.
Sauté the onion in the butter over medium heat until fork tender. Remove from heat.
In a large bowl mix the turkey and the onion. Add the cheese, chili sauce and salt and pepper. Stir to mix.
Place your pumpkins on parchment paper covered lipped cookie sheet. Spoon stuffing into each pumpkin.
Add 2 tablespoons of cream to each pumpkin and replace the top. Cover the baking sheet with foil.
Bake for one hour or until pumpkins are fork tender. Check at 45 minutes if you have a fast oven.
*Red Lemon-Butter Sauce
2 Tablespoons of finely minced shallot
1 Cup Pinot Nior
1/4 Cup wine vinegar
1/4 Cup heavy cream
8 Ounces of butter-cold
Juice of one lemon to taste
Salt and Pepper to taste
Bring to a simmer over medium heat in your small saucepan, the onion, wine and vinegar. Reduce by half.
Add the cream and just at or below a simmer reduce by about one half again.
Add the cold butter a little at a time. Whisk after each addition. Cold butter keeps the sauce from separating.
Add about one tablespoon of lemon juice and taste. Salt and pepper to taste. Add more lemon juice if needed.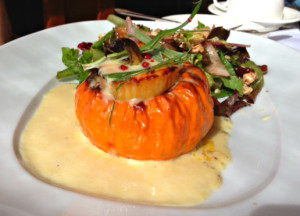 VP Stuffed Baby Pumpkin