Italian Meatball Soup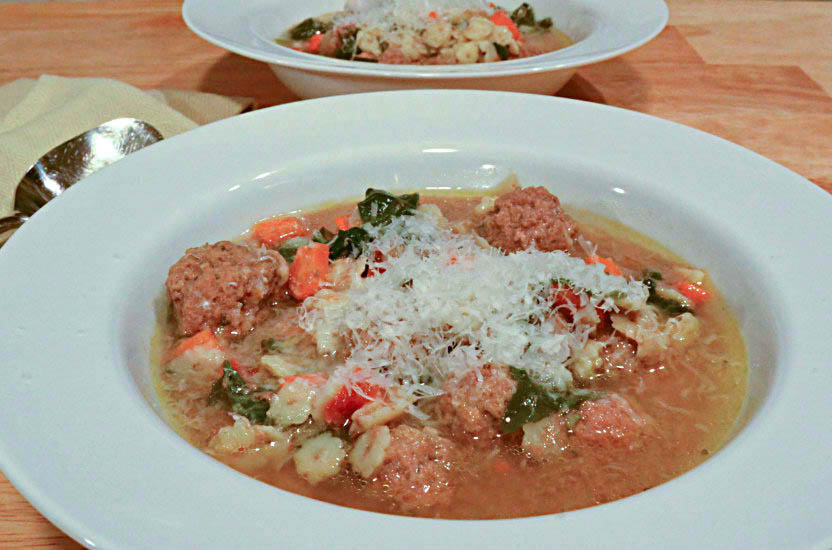 Mini-meatballs are ready to drop into the broth. Next on Kitchen Getaway! Using my meatball recipe. But if you need a 20 minute meal use store-bought meatballs instead. Trader's is great at convenience, including turkey meatballs.
Recipe
1 Tablespoon olive oil (or half oil and half butter for richer soup)
1 Yellow onion-diced
2 Carrots-diced
4-6 Cups broth-vegetable, beef or chicken
1 Pound mini meatballs, 1 inch diameter or so
1/2 Teaspoon dried thyme
2-4 Teaspoons of vinegar-taste as you go
1/2 Cup small (pastina) pasta, like stars
Salt and Pepper to taste
8 Ounces fresh arugula and spinach combination
Grated Parmesan
Sauté in oil the onion and carrot over medium heat until onion is limp. Add to the bottom of a crock pot and add half the broth. Follow this with uncooked meatballs and thyme. Cook on low until meatballs are done, about 2 hours. Longer is okay if you need. Skim off fat. Note: the meatballs are better for this soup if made with 90% or greater (fat-reduced) ground beef.
Add the remainder of the broth and vinegar. Cover crock pot again and bring to a simmer in the crockpot. Add pasta. The small pasta will cook rapidly.  Add the greens just before you are ready to eat. No need to increase temperature of crock pot. The steam will cook the greens immediately. Serve with grated Parmesan.
Enjoy!