Oatmeal Cookies Fully Loaded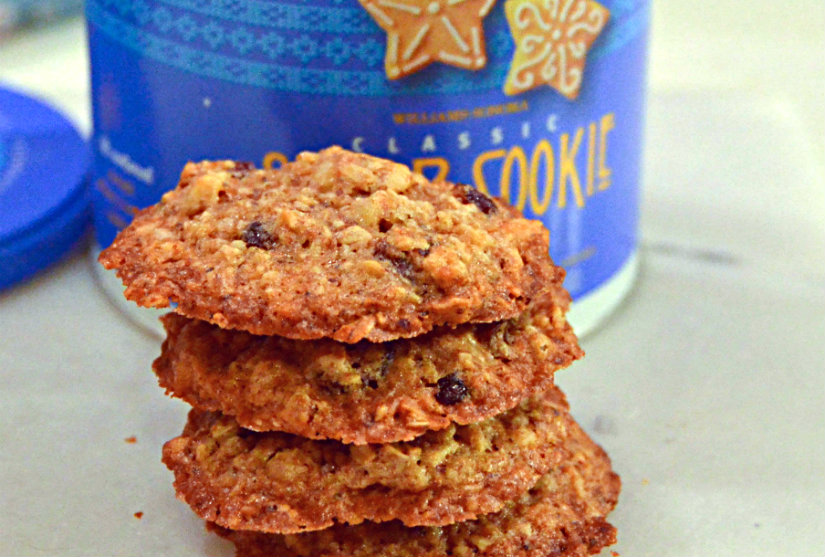 Filling this recycled tin with delicious Oatmeal Cookies for the family … A great little hostess gift for my daughter's cookie monsters. These are hearty but light cookies that happily satisfy the sweet tooth. Butter rich, loaded with nuts and dried cranberries, Oatmeal Cookies are a delicious treat. Give this recipe a try. You'll love it!
Recipe
Preheat oven to 350 degrees F
Use a nonstick cookie sheet or a parchment paper covered cookie sheet
1/2 Cup wheat germ-toasted (put it a skillet over medium heat and toast lightly, cool)
1 Cup all purpose flour
1 Teaspoon baking powder
1/2 Teaspoon cinnamon
1 Teaspoon salt
1 Cup butter-room temperature
1 Cup brown sugar-dark preferred
1 Cup sugar
2 Eggs-room temperature
1 1/2 Teaspoons vanilla
3 Cups old fashioned oats-not instant or minute
1 1/2 Cups chopped walnuts
1 1/2 Cups dried cranberries
Measure the flour, baking powder, cinnamon and salt into a small bowl and whisk. Add the cooled wheat germ and whisk. Set aside.
In a large mixing bowl beat the butter until light and fluffy. Add the sugar and continue to beat until sugar  blends well into the butter. You can't over beat.
Add eggs one at a time to the butter/sugar mixture. Beat after each until well mixed.
Slowly add the previously measured dry ingredients to the butter/sugar/egg mixture. Mix until incorporated.
Mix in the oatmeal.
Fold in the nuts and cranberries.
Use an ice cream scoop to measure the dough evenly. Place 1 1/2 to 2 inches apart. Press the top of each scoop with the back of a dampened spatula to only slightly flatten.
Bake until golden about 12 minutes or so. Remember the cookies will continue to bake slightly when removed from the oven.