Oatmeal Raisin Bars
Triple Good Bars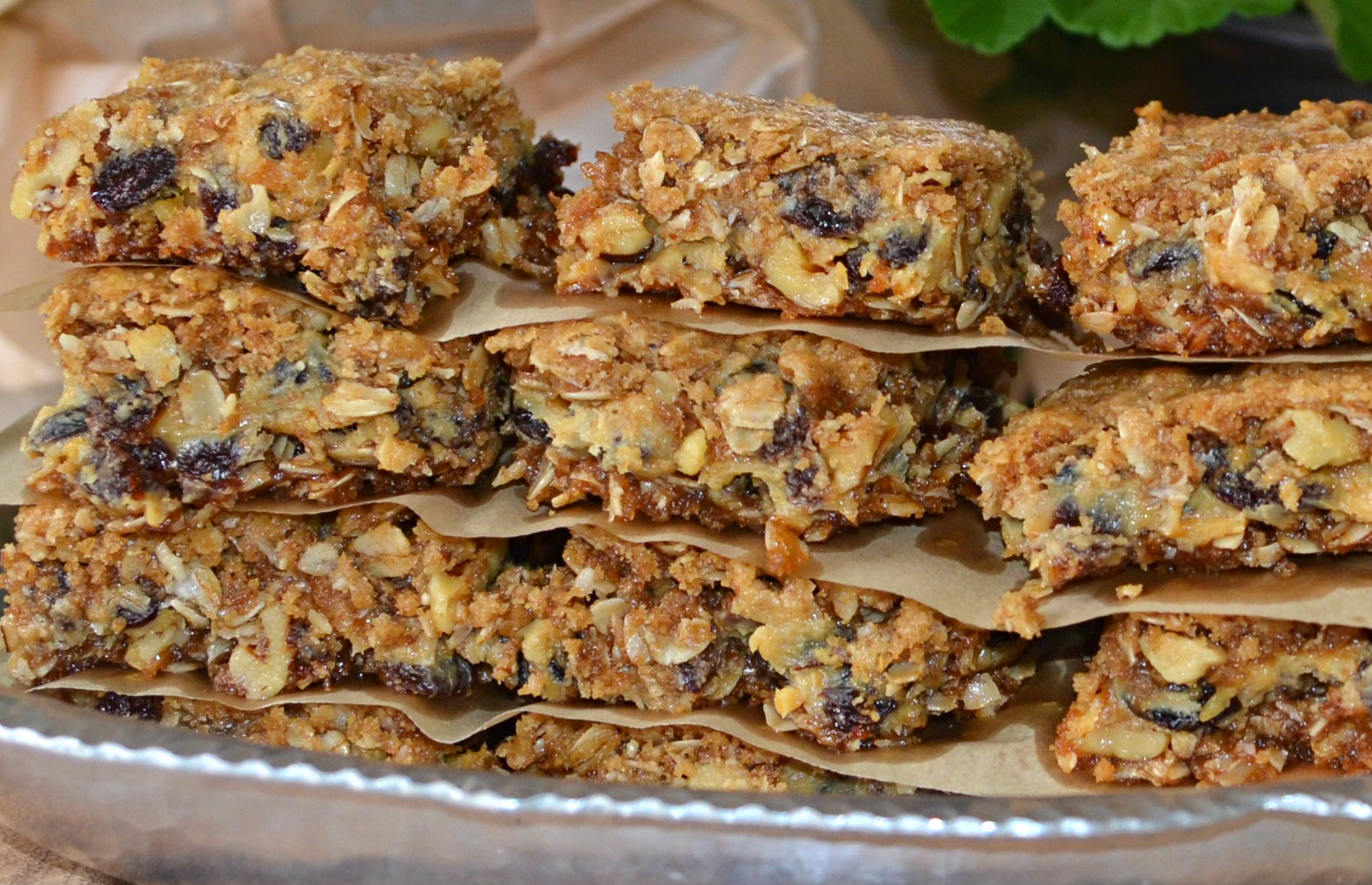 When the sun's out everything gets done. At least for me! I've been wanting to plant geraniums in my kitchen window box and bake these Triple Good Bars, an old Quaker Oats recipe. Today was the day! I wasn't sure about this old recipe from my mother's recipe box. Sweetened condensed milk and raisins, hmm? (Sweetened condensed milk is often used in dessert recipes.) I admit when cooking with this stovetop the smell is sometimes more than strong. But I have used this product many times with wonderful results. It more than works here too! You may already know sweetened condensed milk is evaporated milk sweetened with sugar. You can make your own if you choose but I appreciate the fine product Borden's puts out.
Recipe
Preheat oven to 375 degrees F. Bake for 25-30 minutes until golden brown on top.
2 Cups raisins
1 14 Ounce can sweetened condensed milk
1 Tablespoon lemon juice
1 Tablespoon lemon zest
1 Cup butter-room temperature
1 1/3 Cup packed brown sugar-dark preferably
1 1/2 Teaspoons best vanilla
1/2 Teaspoon baking soda
1/2 Teaspoon salt
1 Cup all purpose flour
2 1/2 Cups quick or old fashioned oats-not cooked
1 1/2 Cups chopped nuts
In a medium saucepan cook first four ingredients over medium heat, stirring to avoid scorching, until slightly thickened or just begins to bubble. Set aside. This will harden to make spreading difficult if cooled too long. You may wish to cook this after making up the oatmeal mixture.
Beat softened butter and sugar until fluffy. Add the vanilla and mix.
Whisk the flour, baking soda and salt together then add to the butter/sugar mixture along with half the oats. Mix until just incorporated.
Now add remaining oats and mix again just until ingredients are incorporated.
Fold in walnuts.
In an oblong baking dish spread all but two cups of the oatmeal mixture. Pat.
Now add the filling that has been slightly cooled. Spread carefully but not quite up to the edge of the dish. The filling will tend to burn if touching the edge of the baking dish.
Now lastly sprinkle evenly the remainder of the oatmeal mixture over the filling. Spread carefully to completely cover the filling.
Bake. Cool completely and then slice into bars.
Delish!