Two Cookies in One Recipe
Olallieberry Bars or Shortbread-style Cookies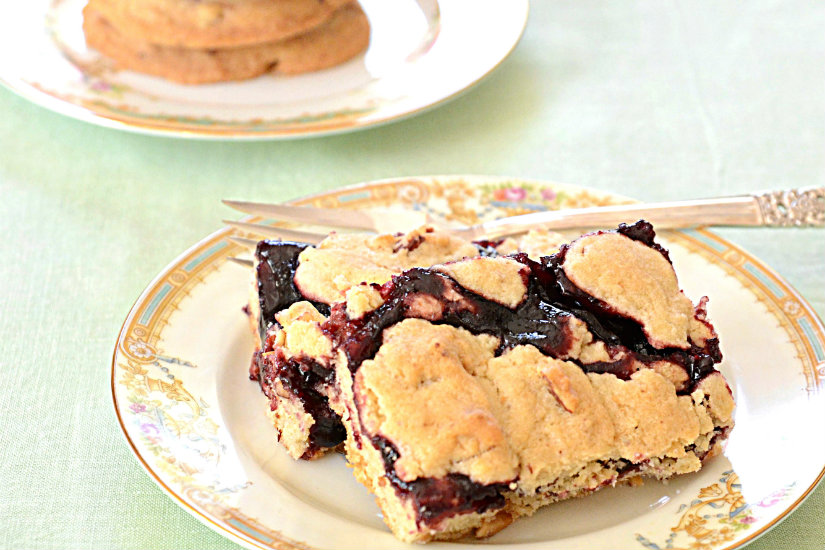 Just back from Cambria some days ago. If you've visited this quaint town on the western central coastline you've likely become familiar with the olallieberry. This sweet tart juicy berry is popular in Cambria … made into pies, jellies & jams, syrups and even candies. You might even find olallieberry port.
Olallieberries have been around for awhile … Some 60+ years. They are a cross between a loganberry and a variety of blackberry from another cross. If you taste a bit of tart raspberry in an olallieberry don't be surprised. It's genetically about 1/3 raspberry. For this recipe I used Linn's Olallieberry Preserves, delicious on its own. I noticed the Linn's jams and preserves are a bit more tart than I remember. This is their fruit forward movement … so I was informed. I'm assuming this to mean less sugar but there may be other changes. Whatever! It's about the best I've ever tasted!
Recipe
Preheat oven to 350 degrees
Makes approximately 1 1/2 dozen shortbread cookies or 16 bar cookies (bite size bars is a nice change and will provided many more)
3/4 Cup salted butter-room temperature (I like European butter)
2/3 Cup sugar
1 Large egg-room temperature
1 Teaspoon best vanilla extract
1 3/4 Cup + 2T all purpose flour
*3/4 Cup roasted chopped almonds
3/4 Cup Olallieberry Preserves-Stir by hand to smoothen (not to be used for Shortbread-style Cookies)
Beat the butter with the sugar until fluffy and the sugar appears dissolved. Add the egg and continue to beat until all mixed well and light.
Add vanilla and mix.
Add the flour and mix until just incorporated.
Fold in the nuts.
For the shortbread cookies use a small ice cream scoop. Scoop the dough and place onto a cool cookie sheet, spacing well. Bake for 20-25 minutes until golden brown around the edges. Cool slightly and then remove from the cookie sheet.
For the Olallieberry Bars use an 8″ by 8″ square baking dish. Press 1/2 the dough into the bottom of the baking dish. Spread with the preserves. Drop small bits of dough across the top of the preserves. Place into preheated oven and bake about 45-55 minutes until golden brown on top.
*To roast raw almonds heat the almonds in a non-stick skillet over medium heat until the aroma of roasted almonds wafts into the air about 20-30-minutes. Be sure to stir occasionally so as not to burn. Cool one almond for a few minutes and check roasting. The nutmeat should be slightly caramel colored when you bite into it.