Old Fashioned Pot Roast
Just like in the 50's!
Few ingredients and all about the roasting method or the pot anyway! Here's our family dinner … unsophisticated but cozy and delicious!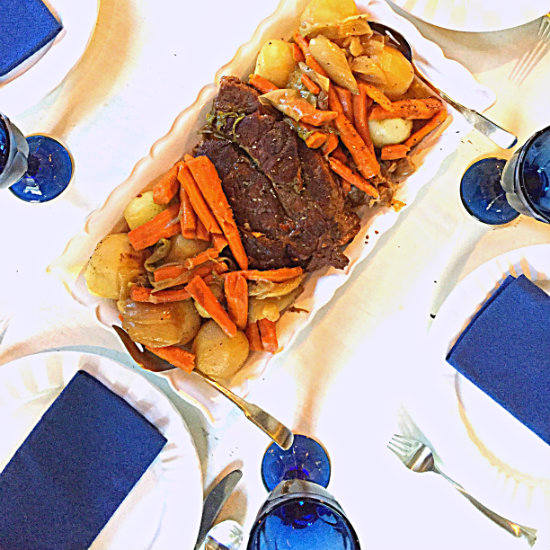 Recipe
Preheat oven to 350 degrees F.
4 Adult servings-large servings
1 Tablespoon high heat cooking oil
4 Pound chuck roast-bone in is preferred
1 Large onion-peel and quarter
1 Head garlic-peel off some of the outside covering and then slice off the top
3 Ribs of celery including the leaves
2 Pounds of carrots-peel and cut larger carrots to fit pot more easily
Salt and freshly ground pepper
Pinch or two of garlic powder
2 Bay leaves
8 Small white potatoes-peel-russets tend to fall apart and I don't recommend
There are five important things to remember when putting this together:
-Use a chuck roast for the most tender of pot roasts. Yes, it's the marbling of fat. Bone-in adds flavor.
-Use a heavy heavy pot for this recipe just large enough to fit all the ingredients tightly. Must have a tight fitting lid. Keep in mind the meat and carrots will shrink a bit before the potatoes are added.
-Use this same pot when browning the meat to produce drippings for flavor.
-High heat quickly brown the meat to a nice crusty brown then pop into preheated oven quickly with all ingredients but potatoes.
-Salt and pepper everything sufficiently. Including the potatoes when you add in the last hour.
Brown the meat over high heat that you can adjust down as needed … Just until slightly crusty brown on both sides. Salt and pepper as you go. Add the pinches of garlic powder on both sides of the meat.
Add the onion, garlic, celery, carrots and bay leaves. Salt and pepper generously the meat and vegetables.
Add 1/2 cup of water or beef broth or red wine around the meat. I add zip. The meat will shrink and produce enough liquid for a perfect gravy. Place into the oven. Check during the cooking process for liquid if you are concerned.
Roast for 1 1/2 hours. Then add the peeled potatoes. Salt and pepper the potatoes. 30 minutes into the potatoes cooking turn them over to help in the caramelizing. After an additional 30 minutes check the meat and potatoes. The meat should be tender and falling away from the bone or pull apart easily. If not cook another 15-20 minutes then check again. When close remove the pot from the oven.
Remove the meat and vegetables to a platter and tent with foil.
Gravy:
In a jar add three tablespoons of all purpose flour to 1 cup of water and shake until smooth.
After all is removed from the pot but the liquid, heat the liquid over medium heat as you add about 1/3 cup of the flour/water mix. Scrape the pot as you go to get the drippings stuck to the pot. Continue heating until it begins to boil. Observe the thickness of the gravy. Too thick? Just add water and heat through. Too thin? Add more of the flour mix and continue to simmer to reduce.
Taste for salt and pepper need and add if necessary. Make sure bay leaves are removed before serving.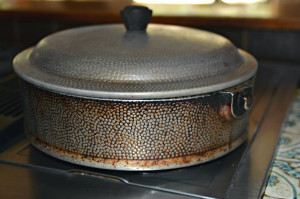 I've wanted to throw out this pot forever! Broken handle, cooked on grease, & aluminum! But it's my Mother's! She had others … more acceptable, whatever that means, but she always chose this one for her pot roast. Now I've inherited this somewhat white elephant and I can't help but use it for my pot roast. Maybe because it really makes the best pot roast ever!
Vintage 1940-50s hammered aluminum cookware.
Kinney Flavor Seal Cookware was made in Los Angeles.