Old Fashioned Tamale Pie
The Recipe Found!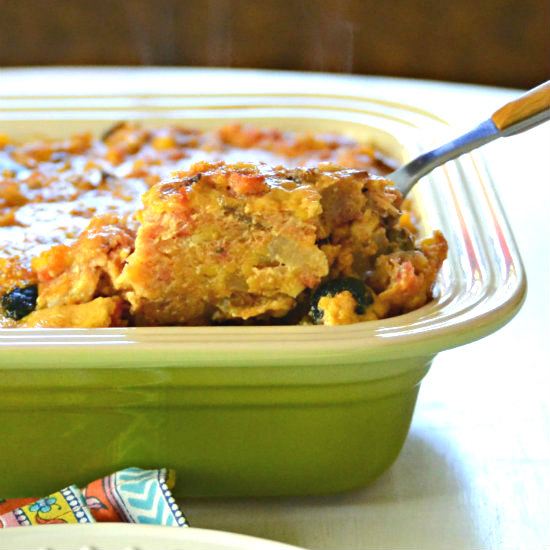 Here's my mother's original Tamale Pie Recipe. I couldn't help but make some changes … like decreasing the cup of oil to 1/3 cup, not noticeably either, and decreasing the tablespoon of salt to 2 teaspoons. I can't imagine this recipe with a tablespoon of salt! The 3 tablespoons of chili powder take this to a mildly hot dish. Decrease if you aren't into it. I've also beefed up the texture with medium ground cornmeal and I stick to a high quality stone ground cornmeal.
I know you won't confuse this with Tortilla Pie but for a little more Mexican food authenticity try it, here. Or if you're looking for an updated Tamale Pie recipe with cheese try this, here. Although this Old Fashioned Tamale Pie doesn't have cheese it isn't missed … And I'm into cheeses. It's delicious!
Recipe
Preheat oven to 350 degrees F.
Butter an oblong baking dish.
5 Tablespoons of butter
1/3 Cup light olive oil-light means light in olive flavor, your call
2 Large sweet yellow onions-diced
2 Cloves garlic-minced
28-30 Ounces of petite cut tomatoes
14 Ounces of whole canned corn-drained (frozen works too)
3 Tablespoons chili powder
1 1/2 Cup cornmeal
3 eggs-hand beaten well
1 Cup milk
1 1/2 Cup drained whole black olives
2 Teaspoons salt
1 Cup chopped beef (see Overnight Pot Roast) cooked & drained ground beef can be used if roast beef unavailable … However, I don't remember any other meat type being used in this Old Fashioned Tamale Pie.
Use a large dutch oven or other large pot that can accommodate all ingredients.
Heat the dutch oven over medium heat and melt the butter. Add the onion and cook for about 15 minutes. Add the garlic in the last minutes of the onion cooking.
Next add the tomatoes, corn and chili powder and heat through.
Add all the other ingredients but avoid adding the eggs directly to hot mixture or they will cook immediately. Mix thoroughly. Heat through.
Pour ingredients into a prepared baking dish and bake for 30-40 minutes until any liquid is absorbed.
And there you have it! Enjoy!