Old Fashioned Vanilla Ice Cream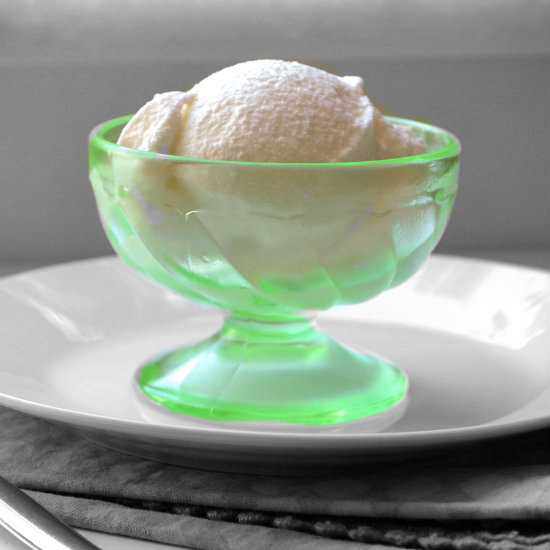 This delicious recipe has churned vanilla ice cream taste with only 3 ingredients and a pinch of salt. Several weeks ago I was in an ice cream-sorbet-sherbet mood. Try the blackberry sorbet … it was fabulous! Anyway, I found the cooked ice cream recipes I tried had little resemblance in taste or texture to the churned ice cream I enjoyed as a kid. The vanilla bean and raspberry ice creams were pricey and left me wanting more in taste. The good flavor of the vanilla bean with the $10 bean ingredient gave my mouth an unexpected feeling I sometimes get with Cool Whip. I moved on to raspberry. I had forgotten my near miss with raspberry ice cream in the past and cooked up the recipe again. The recipe just needs more flavor, a blackberry or two.
Craving the ice cream my parents used to put together, I pulled out the recipe. The first thing I noticed … 6 eggs? Hmm, my mother didn't precook any ingredients. What would happen if I left out the eggs? It always seemed too sweet. What if I left out the sugar? Mother always made a big batch … It was such a production with a special trip to the ice house. Yep, for the ice. In the day we had a freezer only large enough for an ice tray or two. Dad cranked the old rusty freezer without much help. Our backyard in the summer was always filled with neighbors usually playing ping pong or badminton, or just chatting about the heat Seconds were unlikely and within minutes all was gone. So good! Fast forward a bit … we were given an old deep freezer and ice was no longer much trouble. Mother would fill empty milk cartons with water and freeze for ice cream making. Dad bought an electric churning freezer. The fuss was over. The recipe remained the same. Neighbors were miles away now. Lots of left-overs. Mother would freeze the left-overs in individual serving containers. The problem with freezing after churning … the homemade texture is lost. The ice cream became flavored ice … hard to spoon out and lacking in taste & texture. This recipe makes just a little over a quart for this reason. Left-overs are just not recommended.
A Cuisinart ice cream maker works very well for this recipe. It will hold the ice cream for some time if left on the countertop without much of a texture change. Putting the Cuisinart bowl in the freezer with the freshly churned ice cream will change the texture. Not recommended.
Enjoy this simple recipe. It's a keeper!
Recipe
1 Quart extra rich milk (or half and half)
1/2 Cup Sweetened Condensed Milk
2 Teaspoons best vanilla
Pinch of salt
Mix ingredients and place into ice cream maker. Follow maker instructions. The ice cream will be similar to a soft serve in texture but will hold up when served with an ice cream scoop. Recommend chilled dishes.