Old Time Versatile Summertime Dessert
Fruit Crisp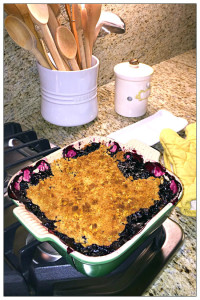 How about this for dessert tonight! Really simple. Really Delicious. Just about the fruit. This one is Blueberry. My fav berry! One of my favorites (Thanks Will!) made this with his favorite go-to recipe guru. That's a lot of favorites!!
Check out the simple recipe here.
And Happy Fourth!
Yes, I'm busy today. How's Fried Sweet Pickles sound!