Amazing One Dish Meal California Style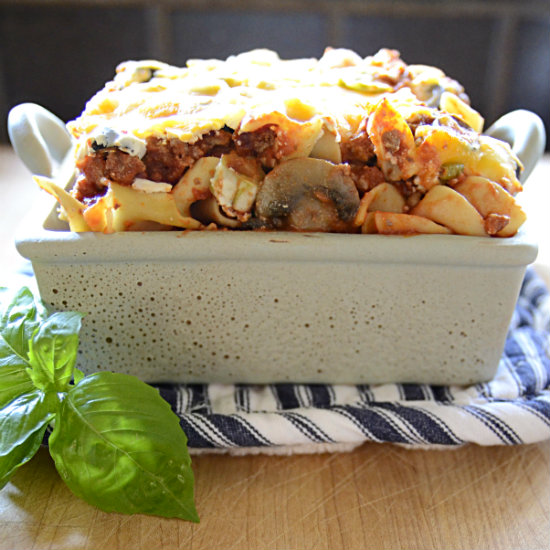 Lots of company this week and a great time to make this one dish meal! Serves eight easily with a green side salad! We loved it and hope you love it too!
California one dish meal is just a wonderful company meal for a crowd. Lots of company with lots of children of all ages. We've eaten it all.
Recipe
After assembling heat in the oven at 350 degree F until heated through about 20-25 minutes.
1 Tablespoon olive oil
1 Tablespoon butter
8 Ounces white mushrooms-sliced
1 clove garlic-minced
1 1/2 Pounds ground beef
1 Teaspoon sugar
1 Teaspoon salt
Pepper to taste
29 Ounce can tomato sauce
6 Ounce can tomato paste
1 to 1 1/2 Cups sour cream-I use low fat with no change in taste
4  Ounces cream cheese-Again I use low fat
1 cup sliced green onions-tops and bottoms (about one bunch)
6 Ounces sliced black olives
12 Ounces of wide egg noodles
1 1/2 to 2 Cups shredded cheese-one half Cheddar and one half Monterey Jack
Cook noodles per package direction (in salted water) as you begin the sautéing. Have all other ingredients ready, assembled and measured, before you begin except the ingredients you will be sautéing/browning.
When noodles are done drain well. Try to time the noodle cooking time and sautéing time. If the noodles finish before the other ingredients are ready drain well and splash a bit of olive oil and mix. Set aside.
Melt butter and heat olive oil in a large skillet over medium/low heat. Add the mushrooms with the garlic and sauté until the mushrooms are slightly brown. Avoid browning the garlic. Remove following and set aside.
In the same skillet, with mushrooms and garlic removed, brown the meat over medium temperature. Drain.
Add the tomato sauce, tomato paste, sugar, salt and pepper to the meat and bring to  simmer. Simmer about 3-5 minutes.
Now layer in a large oblong baking dish beginning with about 1 cup of meat sauce on the bottom.
Next add the noodles.
Then the mushrooms (and garlic) and olives.
Next add all the rest of the meat sauce.
Sprinkle with the green onions.
Whisk together the sour cream and cream cheese and spread over the top.
Follow lastly with the shredded cheese.
Garnish with your favorite fresh herb; cilantro, parsley, basil or sage. Or not!