Orzo with Eggplant
Vegetarian Main Dish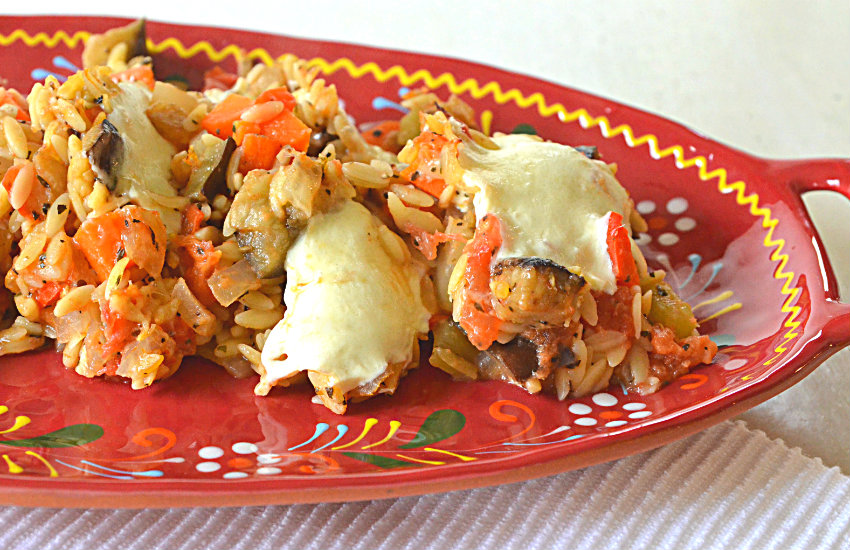 You may not think of this as a Valentine's Day meal but my Valentine does! This fills the bill for pasta Sunday too. How perfect is this! May you have a day filled with love and good food.
Recipe
Preheat over to 350 degrees F
Olive oil-several tablespoons for sautéing
1 Eggplant approximately 1 1/2 pounds-3/4-1 inch cubed
Sprinkle of garlic salt
1 Medium sweet yellow onion-diced
1 Rib celery-diced
2 Carrots-diced
1 Red bell pepper-diced
2 Cloves garlic-minced
3 Roma tomatoes-diced or chopped if you like bigger bits of tomato
1 1/2 Tablespoons tomato paste
15 Ounce can of vegetable broth
1 Teaspoon dried oregano
2 Teaspoons dried basil
1 1/4 Cup orzo-uncooked
1 Cup grated Parmesan cheese
1 Teaspoon of salt or salt to taste
1/2 Teaspoon freshly ground pepper or pepper to taste
8 Ounces Mozzarella-sliced for layering or grated for mixing into dish if you prefer
Heat 2 T olive oil in a large skillet over medium heat. Add the eggplant and cook for about 2-3 minutes. Sprinkle with a little garlic salt. Remove from the skillet and set aside.
Add another tablespoon or two of olive oil and sauté the onion, celery and carrots for several minutes. Add the red bell pepper and garlic in the last minute. Vegetables will be slightly firm on completion. Add back the eggplant.
Add the tomatoes, tomato paste, broth, oregano, basil, orzo. Mix. Continue over medium heat while adding these ingredients.
Stir in 3/4 cup Parmesan and taste for salt and pepper need. Add as you like.
Add the mixture to an oblong baking dish. Layer the Mozzarella over the top. If you prefer Mozzarella throughout dish mix into ingredients before pouring into baking dish. Top with the remaining Parmesan.
Bake in the oven for 30 minutes or until bubbling.
Enjoy!