No Worries Oven Braised Beef Stew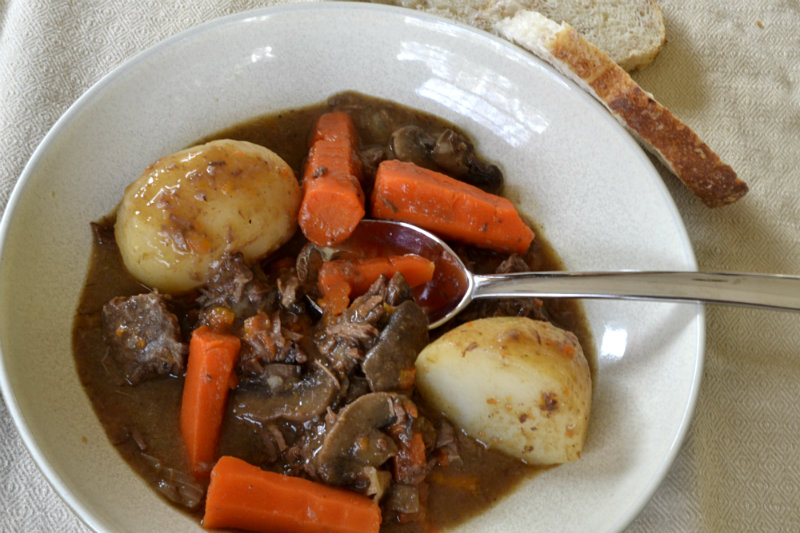 This oven braised beef stew only needs your attention for a few minutes. Then you pop it into the oven to slow cook for at least 4 hours. It does tolerate longer cooking if needed. This is a treat for my visiting daughter. Yep, we are back with the family favorites and comfort foods. But I'm moving to tapas next. Everyone loves tapas, don't they?
Recipe
Allow 4 hours cooking time with an additional 30 minute prep time
Serves 4 hungry adults
2 Pounds of stew meat
2-3 Tablespoons olive oil
1/3 Cup all purpose flour
1/2-1 Pound small mushrooms-slice one-half and leave the other half as buttons
1 Large onion-cut into eighths
12 Medium carrots-peeled
8 Small white potatoes-peeled
1/2 Glass or big slug of red wine
2 Teaspoons worcestershire sauce
2 Cups water or 4 cups if no broth is used
2 Cups broth, vegetable or beef (optional)
Salt and pepper to taste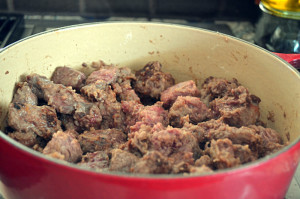 Heat a heavy dutch oven over medium heat with 2 tablespoons of oil. Place meat and flour into a bag and shake to coat. You may wish to do a few pieces of beef at a time. Shake off excess flour. Add floured beef to hot oil a little at a time to avoid lowering the temperature of the pan. Brown all the meat. Add broth or water or both and bring the meat to a simmer. Add the wine.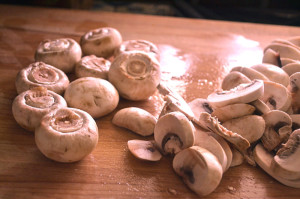 Clean mushrooms and slice some.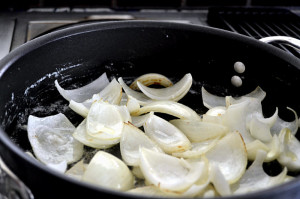 Sauté onions in a little of the olive oil until slightly brown. Add to the simmering meat.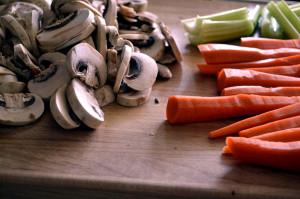 These vegetables will all be sautéed and then added to the meat.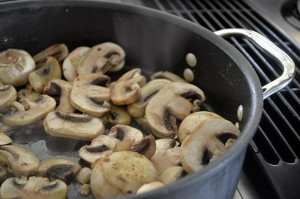 Sauté the mushrooms until slightly brown. Add garlic salt to the mushrooms. Just a sprinkle over the top. Or if you prefer, add one minced clove of garlic to the mushrooms as they cook.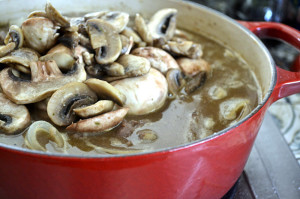 Mushrooms added to simmering meat.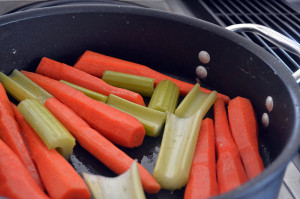 Sauté the carrots and celery until a touch of brown appears.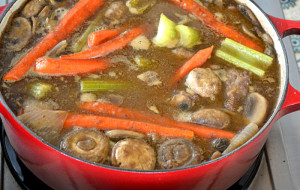 Add carrots, celery, salt, pepper and worcestershire sauce. Mix. When stew returns to a simmer place into a preheated oven at 275 degrees F for four hours. No lid. Make sure the liquid reaches over the top of the vegetables. Potatoes go into the stew in the last hour. The longer you cook the stew the more the meat begins to break up into small pieces.
Comfort yourself on a cold snowy day.