Oven Fajitas & Classic Enchiladas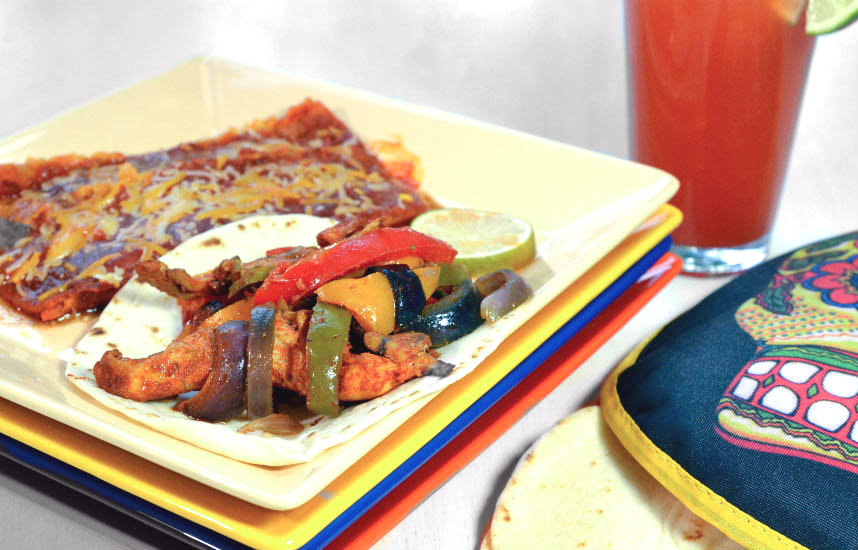 Two thumbs up! Love no fuss dishes that have the food on the table in a flash. These Oven Chicken Fajitas are not too spicy and the chicken is so juicy good. If you're looking for something healthy, simple, presents well (cook & serve in a paella pan) and is delicious, this is it! The Classic Enchiladas take just a little longer to put together but let's admit it, the clean up, yikes! I love both of these recipes. The fajitas are pretty much a complete meal. By adding the perfect garnish to the enchilada it too can be a meal in itself.
As I have said so many times enchiladas are a family favorite. I have many recipes, here, here, here & here. The significance of this recipe, it unlike the others is made with a tomato base. And as a classic, cheese is the only filler. Hope you enjoy these recipes. We sure did!
If you are interested in an enchilada sauce from pod to finish … Try mine! And here are two wonderful enchilada casseroles, Green & Red. As I said, we are big on the enchiladas!
Recipe
Oven Fajitas
Preheat oven to 425 degrees F.
For the spices, mix the following and set aside:
1 Tablespoon Hatch Chile Powder (Can be purchased, here, more expensive than in the store for this brand.)
1/2 Tablespoon paprika (For a smoky taste try Spanish sweet smoky paprika. Warning: you must be into smoky!)
1/2 Teaspoon onion powder (If you don't have powder use onion flakes pulverized to about 1 teaspoon)
1/4 Teaspoon garlic powder
Heaping 1/4 teaspoon ground cumin
1/8 Teaspoon ground cayenne (optional)
1 Teaspoon sugar
3/4 Teaspoon salt or to taste
Thank you Budget Bytes for your influence.
1 or 1+ Pound chicken strips or make your own from skinless & boneless chicken breasts
4 Bell peppers, one each of green, red, yellow & orange-seeded and cut into strips
1 Large red onion (choose a flat one for sweetness) cut into quarters then 1/8's or smaller depending on size of onion
3 Tablespoons olive oil (light if you are not into the taste of olive)
10-12 Flour tortillas (served warm)
Garnishes: sour cream, cilantro, quartered lime
Pico de Gallo or my recipe for fresh salsa (all garnishes optional)
In an extra large bowl add the chicken and the oil. Sprinkle the chicken and oil with about 1/3 the mixed spices. Now add all the vegetables and the remainder of the spices and toss several times to coat.
Place ingredients in a paella pan or other large pan with low sides. Distribute across the pan. There should be a healthy single layer across the pan.
Place into the preheated oven and roast for about 30 minutes. Length of time depends upon your oven … Does it typically run cold or hot? Adjust accordingly.
Remove and serve with warmed tortillas and garnishes. No garnishes needed, BTW.
I serve in the festive paella pan right on the table.
There you have the most delicious and easy Oven Fajitas!
Classic Enchiladas
Preheat oven to 350 degrees F.
2 Tablespoons Hatch Chile powder
2 Tablespoons all purpose flour
2 Tablespoon lite olive oil
6 Ounce Can tomato paste
2 cups water
1/2 Teaspoon salt or salt to taste (if using salted butter 1/2 t salt works for me)
1/2 Cup butter or lite olive oil or combination
4-5 Cups shredded mixed Mexican cheeses, such as Sargento
8-10 Corn tortillas
Use a skillet large enough to hold the first 5 ingredients and large enough to dip tortillas.
Over medium heat add the first three ingredients and cook until bubbling and well incorporated.
Add the tomato paste and water slowly. Stir to mix thoroughly. Add salt.
Turn temperature to a low medium and heat just below a simmer until thick and creamy.
In a separate skillet heat the butter (or oil) over medium heat, careful not to burn or scorch.
Dip the corn tortilla one at a time into butter and then into sauce.
Place sauce drenched tortilla onto a baking dish and fill with a handful of shredded cheeses. Roll with seam down. Repeat until all tortillas and cheese used. (Save a tiny bit of cheese for sprinkling. Or use crumbled Cotija cheese instead. Either are used after the baking process.)
After all enchiladas are filled and placed into your baking dish side by side, seam side down, add a large cooking spoonful of sauce over each.
Cover the top of the baking dish with foil and heat for 20 minutes in preheated oven.
Remove and garnish as desired.
Garnishes: Shredded lettuce, sour cream, crumbled Cotija, chopped olives, fresh salsa, guacamole, here (all optional)
Enjoy!
Check out my next blog for Bloody Beer!
Love this tortilla warmer! I prefer to use parchment paper around the tortillas before inserting into this cloth warmer. Other designs available. Click photo for details.