Pasta "Fazool"
A Family's Recipe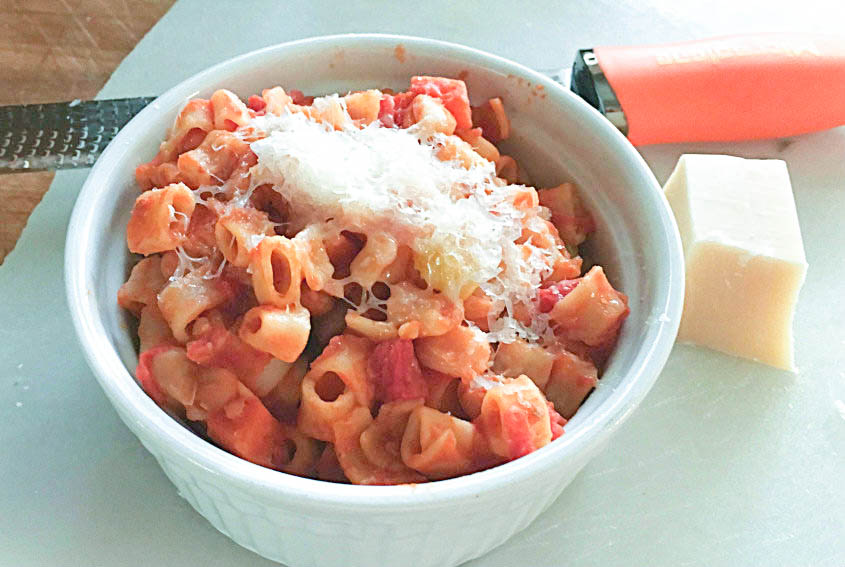 Pasta and Beans (Pasta Fagioli) is an economical dish with few ingredients. Eaten often by the Rizzo Family on meatless Friday's and during Lent. When I assisted in putting this together I wasn't sure just how flavorful the result would be. It is now on my list of favorite comfort foods. Vegan or vegetarian, or add a little Italian sausage if you must. It's all perfectly good.
Recipe
1 1/2 Cups uncooked ditalini pasta
1 Scant tablespoon salt (Add this to the pasta cooking water-it will be partially drained off.)
15 Ounce can petite cut tomatoes (or 4-5 fresh Roma tomatoes-pulp and seeds removed then chopped)
8 Ounce can tomato sauce
15 Ounce can cannellini beans-drained but not rinsed
2 Tablespoons olive oil
2 Cloves garlic-minced
1 1/2 Cups chopped (small) celery and carrot combination, equal amounts of each or to your taste
1/2 Pound spicy Italian sausage (optional)-cooked and drained
Grated Parmesan cheese (optional)
In a large sauce pan boil the pasta in salted water until al dente.
In the meantime, sauté the vegetables in the olive oil over medium high heat until al dente.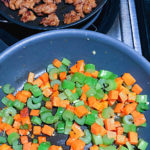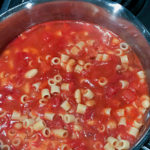 After the pasta is cooked drain off some of the water, leaving enough to keep the pasta moist like a very thick soup. Add the tomatoes, tomato sauce and beans to the pasta and bring to a simmer.
Add the sautéed vegetables and the cooked sausage if using.
Heat through. It's ready!
Serve with grated cheese.