Pasta with Sautéed Kale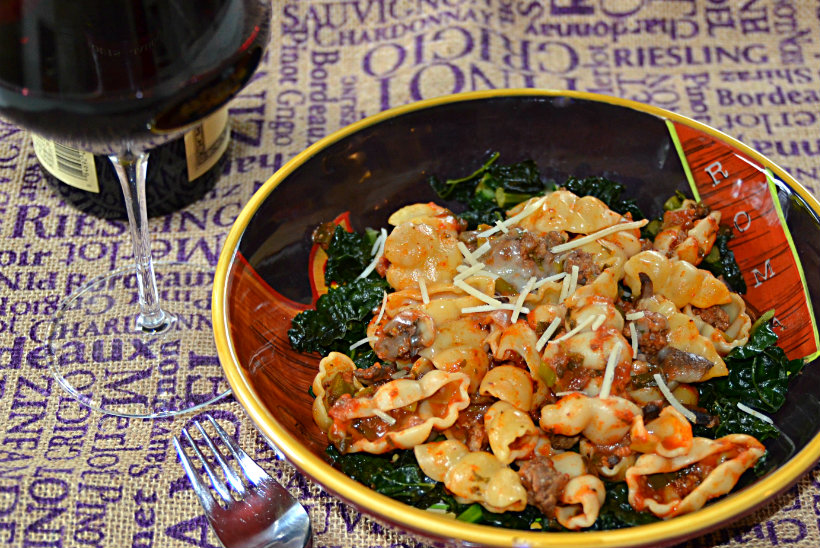 A tweet shared with me goes something like this, "A Sister asked this Priest (apparently a good cook) for a kale recipe." His advice … "Chop it up, toss it in the garden and grow something good!" I must say I've met more with this attitude about kale than not. As for me, I haven't met a green I didn't like! In this dish I simply sautéed the closely chopped kale separately and layered the pasta mixture right over the top. There's just enough sweetness in the pasta sauce to counter the usual slight bitterness of kale. I love this dish for so many reasons. If you haven't tried gnocchi shaped dried pasta you must. The pasta cooks up beautifully. And look how it holds the meat sauce perfectly!
Here's a homemade version of gnocchi I believe you will enjoy too!
Recipe
Preheat oven 350 degrees F.
12 Ounces of gnocchi shaped dry pasta-cook according to directions for al dente with plenty of salt
10 Ounces of kale-chopped pretty fine, especially stems
2 Tablespoons of olive oil (1T to be used with kale)
4 Cloves of garlic-minced (1 clove to be used with kale)
2 bunches of green onions-sliced
1-2 Tablespoons of butter
8 Ounces of sliced mushrooms
1 Pound of ground beef
1 10 Ounce can beef broth
1 8 Ounce can of tomato sauce
1/4 Cup chopped parsley
1/2 Teaspoon red pepper flakes-divided
1/2 Cup Romano cheese-more for sprinkling
Salt & Pepper
Cook pasta according to directions. Drain and set aside.
In a wok or skillet over med/high heat add the olive oil and 1 minced garlic clove and sauté briefly.
Remove the garlic and save. Add the kale and sauté for about 10 minutes. Add back the garlic and 1/4t red pepper flakes. Place the cooked kale into a buttered baking dish and set aside.
In another skillet over medium heat add the butter and mushrooms. Sauté until mushrooms are slightly browned. You can add a dash of garlic salt if you wish. Set aside when done.
Back to the wok or skillet used for the kale. Add another tablespoon of olive oil over med/high heat and sauté green onions and the remaining garlic for several minutes. Remove the onion and garlic and save. Add the hamburger to the skillet and brown slightly. Drain off fat. Add back the onion and garlic. Add the sautéed mushrooms, broth, tomato sauce, the remaining red pepper flakes, parsley, pasta, and Romano cheese. Mix. Taste for salt and pepper need. You may not need any.
Pour the ingredients over the kale (the kale can be served on the side if desired-no further cooking is necessary-just heat through). Place into oven for 25 minutes to heat through.
Delish!