Peppers. Olives and Capers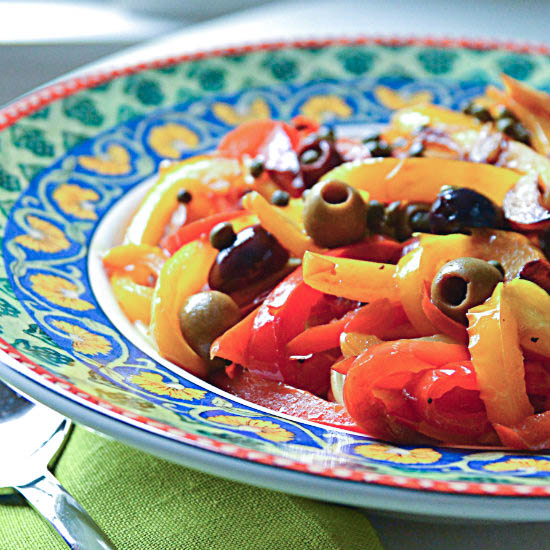 Layer this sautéed combination over rice or pasta or serve it all by itself. Add anchovies to the recipe if family and friends don't object. Or give depth to the taste with anchovy paste instead like I do. Adding sliced sweet yellow onion to the sauté is great too, but we go for a lot of garlic. Try this 15 minute dish for a quick light tasty lunch or dinner.
Healthy and Happy New Year!
Recipe
3 Tablespoons olive oil
3 Large bell peppers, red, orange or yellow or combination, sliced thin
3-4 Large garlic cloves-sliced thin
1 1/2 Teaspoon anchovy paste (optional for vegetarian)
2 Tablespoons capers-rinsed
2 Teaspoons wine vinegar
2/3 Cup mixed pitted olives, Italian or Mediterranean Mix-drained
Salt and Pepper to taste
1 Tablespoon best balsamic vinegar
Optional-Parmesan cheese-shredded sprinkling
Heat the oil in a skillet or wok over moderately high heat. Toss in sliced peppers and garlic and sauté until al dente. About 10 minutes.
Mix in the anchovy paste, capers, wine vinegar, and olives.
Heat through. Taste for salt and pepper need.
Serve over pasta, drizzle with balsamic and sprinkle with shredded parmesan.