Perfect Tasting Juicy Pork Chops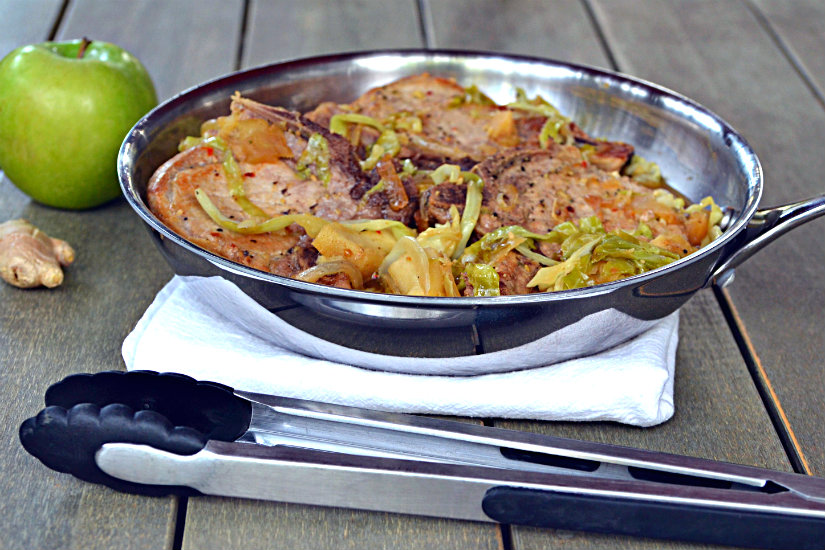 Pork Chops can be dry. It's just a known. And actually after eating them that way as a child for years I don't mind the dryness. Yikes!! But let's face it, it's less than ideal. This recipe is so absolutely delicious but if the pork chops are overcooked … Well, you might feel the whole recipe is a flop. Here are some pointers to help maintain the moistness of your Pork Chops. Or try this brine method boasted about on The Kitchn. Haven't tried it but bet is works.
Recipe
Dinner for Four
4 Pork chops
Cook the pork chops by either your favorite method or mine. Have all the remaining ingredients prepared to cook immediately following the cooking of the chops using the same skillet with the chop drippings. Hold the chops on a foil tented plate while you complete the following.
Add olive oil (1-2T) to the 'unclean' skillet if needed and sauté the onion over medium heat then the cabbage, garlic, and apples. Cook until slightly browned, caramelizing. Add the liquids and simmer for about 5-10 minutes until vegetables are fork tender. Add the cooked chops and any juice into the vegetables, smothering the chops in the vegetables. Heat through. Serve.
1 Medium sweet yellow onion-peel, cut in half and slice thin
Small head of cabbage or half a large-remove core and slice thin
2 Tablespoons chopped fresh ginger-or grate it and use less or to taste
4 Cloves of garlic-minced
2 Teaspoons of McCormick Perfect Pinch Asian or an equivalent
2 Granny Smith Apples-peel and slice
1/3 Cup White Wine
3/4 Cup Apple Cider