Pistachio Salmon
And Easy Rice Pilaf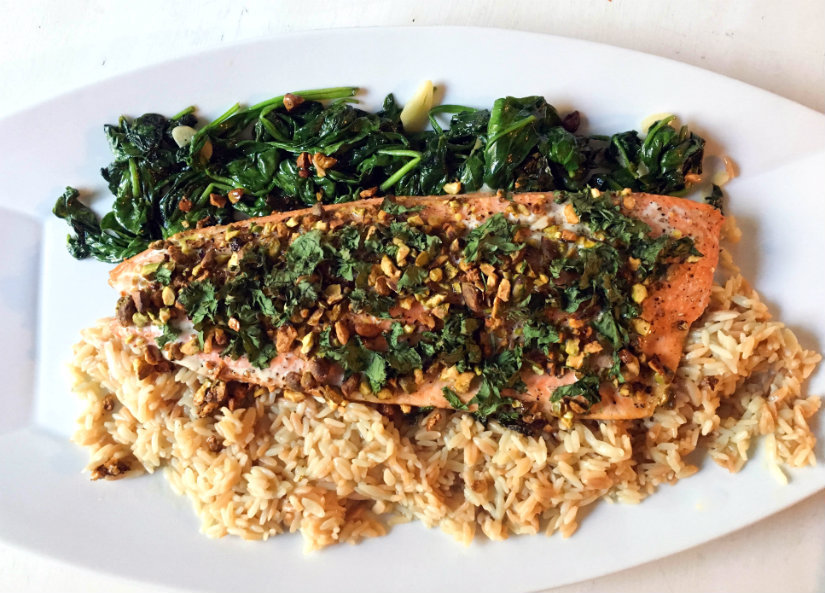 Salmon is so easy and so delicious. It really doesn't need to be dressed up but I like the simple addition of pistachios and cilantro. This recipe doesn't have exact measurements for the ingredients. It's to your taste. You can't go wrong. Use raw or roasted pistachios, salted or unsalted. Just make those allowances when adding salt to taste. Here you go….
Recipe
Preheat oven to 425 degrees F.
Salmon fillet
Olive oil
Pistachios-roasted or raw-chopped
Cilantro-chopped
Salt and pepper to taste
Place fillet on a (low sides) roasting pan that has been oiled lightly.
Drizzle the top of the fillet with olive oil.
Sprinkle the fillet with pistachios and cilantro.
Salt and freshly ground pepper to taste.
Place into the oven and bake for 8 minutes, adjust time for thinner or thicker cuts.
Simple Rice Pilaf
4 Servings
1/4 Cup broken vermicelli
3/4 Cup white rice
2 Tablespoons butter
1 3/4 Cups chicken broth
Taste for salt need
Sauté the vermicelli and rice in butter in a saucepan over medium low heat until lightly browned. Careful, the vermicelli will brown up more easily.
Add 1 3/4 cup chicken broth to the vermicelli and rice. Cover and simmer low until all water is absorbed.
Remove from heat and let set for about 5 minutes.
Fluff and serve.