Popcorn Balls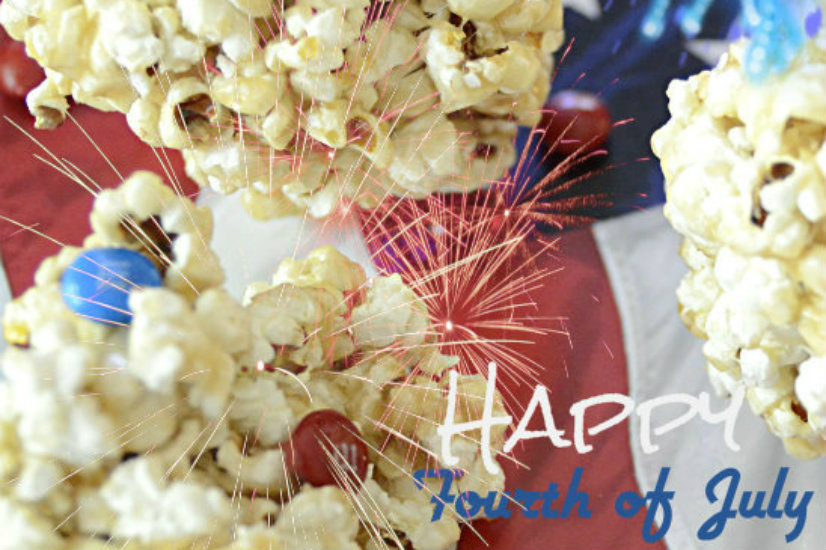 Here's a really simple recipe I've used for many years. I like to add M & M's but there is definitely a trick in adding these to the popcorn balls. And I had forgotten until I made these today. You can add other candies like licorice bits, gum drops (both easier to handle), or nuts. Almonds are good.
 Recipe
Preheat oven to 250 degrees F
You will need a candy or deep fry thermometer
8 Cups of popped corn with all un-popped kernels carefully removed.
1 Cup sugar
1/3 Cup corn syrup-dark or light
1/3 Cup water
2 Tablespoons butter
1/4 Teaspoon salt
1/2 Teaspoon vanilla (your best)
1/2 Cup candies or nuts or combination
Place popped corn into buttered or cooking sprayed roasting pan with deep sides. Sprinkle with salt. Keep warm in preheated oven.
In a small sauce pan mix sugar, corn syrup, water, butter and pinch of salt.
Heat over medium heat until it begins to simmer then lower the temperature slightly.
It will continue to bubble. No need to stir during this process but do watch to avoid over heating.
Place the thermometer to the inside of the sauce pan. The temperature will gradually rise to 250 degrees F. This will take some minutes, 5-10 depending on burner temperature.
Now you will need to move fairly quickly to avoid hardening of the syrup before you are ready.
Remove the popped corn from the oven.
Remove the sauce pan from the heat and add the vanilla. It will sizzle slightly … be careful. Stir to mix.
Have gloves if you are fearful of burning yourself. Have a wooden spoon available.
Poor the syrup over the popped corn and stir quickly. Next drop candies or nuts over the top. Stir quickly. (Not M & M's! These need to be added as you form the balls but not directly into the roasting pan.) Now begin forming the popcorn balls, 6 very large or 8 medium. The syrup (caramel) you made will set up fairly quickly.
Ready to eat when cool!