Blackberry Cobbler With Port
Summer Evening Dessert-Petite Sirah Drenched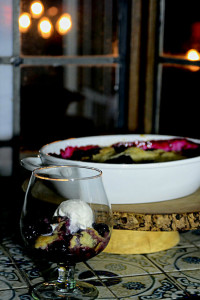 Perfect summer date-night dessert! Not much prep time 'cause who wants to be in the kitchen on a date-night? And by the way, this is not a dessert for the youngsters. Pick your favorite Port and if you just don't have a clue the Portuguese Ports easily available are good. Our family travels to Paso Robles frequently and many of the vineyards have wonderful port. Someone I knew liked Petite Sirah, who was that? hmm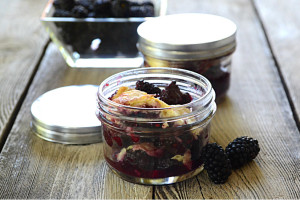 Preheat oven to 400 degrees F
Use an eight inch square baking dish or equivalent
Filling
4 1/2 Generous cups of blackberries-rinse well and drain
2/3 Cup sugar
1 Tablespoon cornstarch
3/4 Teaspoon salt
1 Tablespoon European butter
1/3 Cup Port (I used a delicious Petite Sirah)
Sprinkle lightly with cinnamon
Whisk together the sugar, cornstarch and salt.
In a large bowl add the drained blackberries and sprinkle with the Port.
Add the sugar mixture to the berries and mix gently. Pour into your baking dish and dot with butter. Sprinkle over all lightly with the cinnamon.
Crust
1 Generous cup all purpose flour
1/2 Scant teaspoon salt
1 Teaspoon baking powder
1/4 Cup European butter-cold
1/4 Cup milk
Whisk first three ingredients together in a medium sized bowl.
Cut the butter into little cubes and add to the flour mixture.
Add the milk and mix all quickly. Not to worry if butter is not entirely incorporated into the mix.
Form a ball.
On a lightly floured board roll the dough to the form of your baking dish. Don't worry if it isn't perfect.
Lay the dough carefully over the berries crimping where necessary. Piece together if in pieces. Not to worry, it will bake up lovely.
Optional: Baste the crust with melted butter or a beaten egg before baking.
Bake for 35-40 minutes until the filling bubbles and crust is lightly brown.
Remove and cool to near room temperature for best results.