Portuguese Bean Soup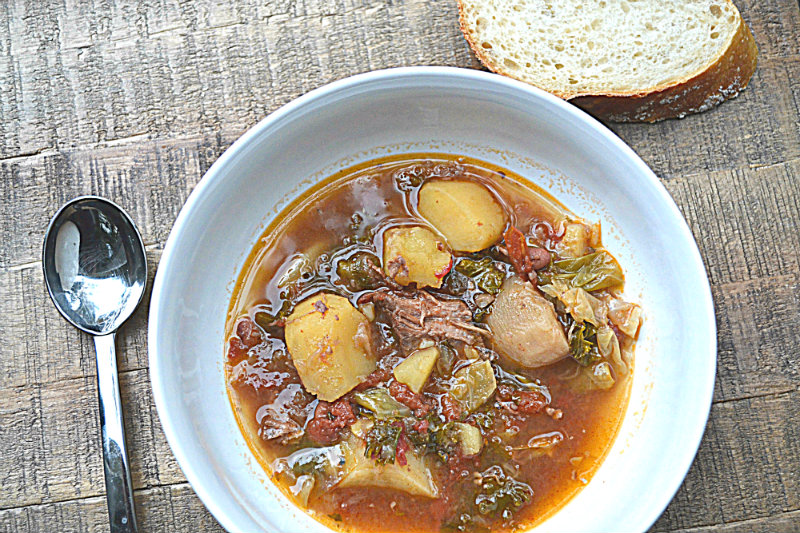 My brother is coming to visit and I'm pulling out all the old family cold weather favorites. We're going to be busy; so, the meals aren't going to be that planned. (Just a warning, Dan.) This is one of our favorite soups. It's a stew, vegetable soup and beans all in one. Certainly this can come together in a slow cooker.
Let's take a look at the recipe and see how this can be done. Portuguese Bean Soup
My suggestions for a slow cooker are these in addition to the initial recipe instructions:
-First, make sure your cooker is at least 8 quarts or divide the ingredients in half for a smaller batch.
-Soak the beans the night before. Pink beans tend to be firm. The soaking will ensure enough cooking time for the beans.
-Brown the meats. And sauté the onion and garlic. Layers these on the bottom of the cooker. Salt and pepper the meat during the browning process.
-Place the drained soaked beans next and follow with the tomatoes over the top of the meat, onion, garlic and beans.
-Next add the turnips, cut these in fourths. Follow with the potatoes, cabbage and greens.
-Add the spices, vinegar and remainder of salt and pepper. And water to just cover all ingredients by about 1/2 inch.
-Turn the covered cooker to high for about 20-30 minutes. Then turn to low or your usual long cooking temperature. Allow 6-8 hours cooking time.
-At the very end of cooking when all is done add the pan cooked linguica.
Note: You may feel the greens and cabbage will be over-cooked. You can cook these separately at the very end and then add to the soup. It is our experience this soup gets better the second day as it approaches the thickness of a stew. So, cooking the cabbage and greens all day is not a negative for us. But then of course the nutritional value will have declined somewhat.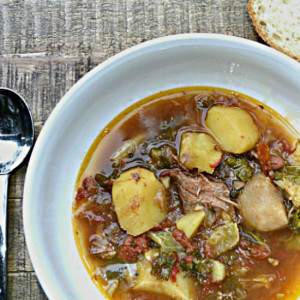 This photo was taken outside on a cold grey day. The perfect weather for this soup. I hope you enjoy it as much as my family.
Portuguese Bean Soup Revisited!