Old Family Recipe Portuguese Beans with Linguica
This is the time of year my dad put together a big lunch for his customers, farmers and ranchers. He would do most of the food preparation himself. Yep, there could be a huge crowd. One item on the menu was Portuguese beans. So, the question is do I have my dad's recipe or his mother's recipe? Or are the recipes the same? Anyway, get your pound of pintos soaking, and don't eat the last of the linguica!
Why am I thinking about these beans? Aside from the thoughts of the yearly luncheon, my brother made another batch of linguica. He is still working to perfect the recipe! And someone shared her prepared Portuguese beans and linguica with me recently. Just delicious Melissa! Let me see how my dad's recipe compares!
Recipe
One Pound of pinto beans-presoaked, wash and pick out pebbles before soaking
1/3 pound bacon-cut up
1 Large onion-chopped
1/2 green bell pepper-chopped
Water to cover-approximately 4 cups
15 Ounce can tomato sauce
1/2 Teaspoon cinnamon
1 and 1/2 Teaspoon cumin
1/2 Teaspoon salt or salt to taste
Pepper to taste
Up to one pound of pan cooked linguica-chopped or sliced
If not adding linguica or for those that just desire a more garlic taste add one large garlic clove (minced). Add with bell pepper.
Soak the beans overnight. This step can be skipped but the amount of water added will increase significantly. If you use this latter method start with two inches of water over all prepared ingredients and add more as needed as the beans cook.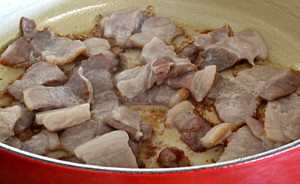 Cook the bacon, not to crisp, in a dutch oven and drain off excess fat.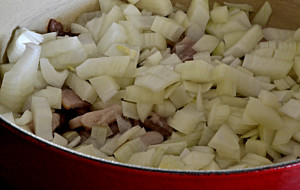 Add chopped onion to the bacon and continue cooking.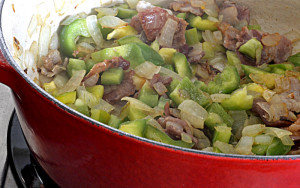 Add bell pepper and cook until pepper begins to soften.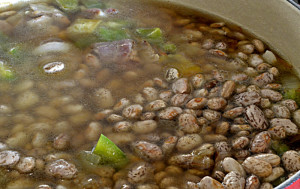 Add soaked beans and water. Turn burner to medium heat until the beans begin to boil. Turn the heat to low for simmering heat.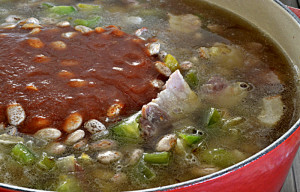 Add tomato sauce and the spices. Hold salt and pepper for now. Cover and cook until beans are tender. Depending on the soaked beans or not this could take several hours. Remember to check from time to time to add water as needed.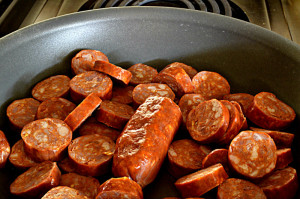 Slice or chop the linguica. Cook over medium heat until slightly brown. This process will remove some of the excess fat. Drain after cooking. The large piece is being cooked for an afternoon sandwich. The perks of being the cook. Add linguica and continue cooking. After about 30 minutes check for need of salt and pepper. Add as needed.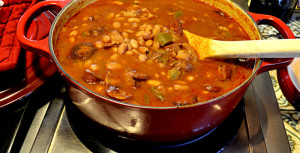 Cook until beans are tender. Just as a linguica sausage recipe is regional so is the recipe for Portuguese beans. This Portuguese Beans with Linguica Recipe tastes very different from Melissa's. Both are delicious. But of course I have a long history with our family recipe.