Portuguese Black Beans (Feijoada)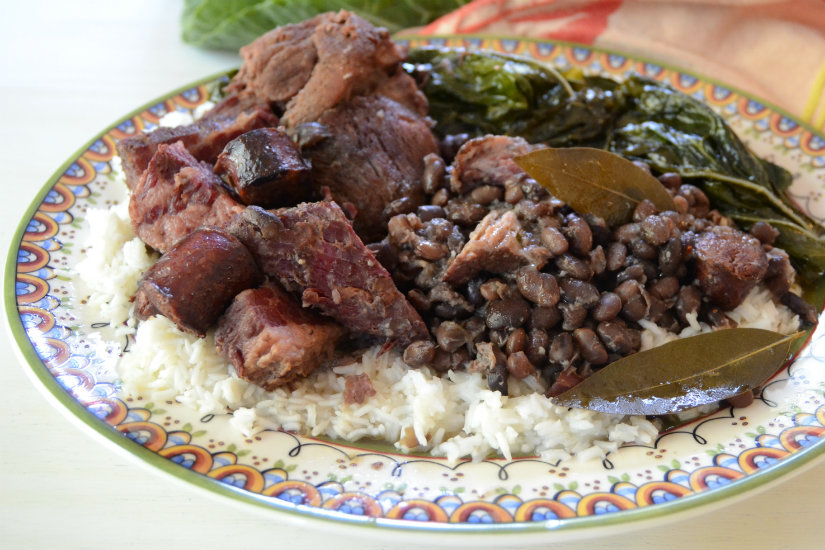 Danny, have I a recipe for you! Dan's my brother … Here.
How can this be a family recipe? Brazilian? Connie joined our family almost a year ago as I joined hers … Our children married. Connie's family is originally from the Azores but lived in Brazil most of her youth. She has shared with me her recipe for feijoada. I've made a few minor changes to ingredients but will include her version and mine. And the cooking method was changed slightly.
If I haven't captured your attention … It's hard to be passionate about beans BUT not for me! Portuguese Black Beans doesn't fully describe this recipe. This is an amazingly delicious meat stew with beans … Served with rice and collards.
You've got to try this!
Recipe
Cooking time depends on the tenderness of the beans and meat. Usually several hours 2-3+ if the beans are soaked ahead. Beans differ in cooking time, age of beans and bean type influence this.
It's important to simmer the beans and not boil. Just a better outcome. If you use a lid the beans will cook differently … softer all the way through. I prefer without a lid to have a little firmness.
1 Pound dry black beans-rinsed and soaked overnight (soaking produces even cooking and reduces cooking time slightly)
4 Tablespoons olive oil
2 Large yellow onions-peeled and chopped
1 Head of garlic (about 2 dozen cloves)-peeled and chopped or crushed with side of knife
4 Bay leaves
1/4-1/2 Teaspoon ground coriander (optional)
1+ Pound pork shoulder-remove as much fat as possible then cut into chunks or not. This falls apart in cooking.
1+ Pound carne seca or corned beef-remove as much fat as possible then cut into chunks (Corned beef is salt cured beef and the spices are added during cooking for traditional corned beef. Do not add the spice packet. We are looking for salt cured meat without flavoring at this point.)
1/2-1 Pound linguica
1 Smoked ham hock or shank
Pork ears and feet-cut in chunks (optional)
Heat 2 T oil over medium heat and sauté onion until slightly golden. Add the garlic and continue for another minute or two. This can be done in your large dutch oven or stock pot … the one you are going to use for the cooking process. Turn off heat when finished.
In a separate skillet cook the linguica to render off some of the fat. Add linguica to the onion and set aside.
Next add a little oil to your skillet used for the linguica (drained of fat but not cleaned) and brown the shoulder meat. You can do this with the corned beef too if you like. Drain and place meat in with the onion and linguica.
Add the drained and lightly rinsed beans to the meat and onion mixture. Add the other meats as well. Add enough water to cover the beans. The meat may peek through the water slightly. You want enough water without having ingredients swimming in lots of water. You can always add water later if needed.
Add the bay leaves, and coriander if using.
Bring to a boil and then turn to a simmer. Simmer until done.
It is very unlikely you will need any additional salt.
This dish is traditionally served with rice. Use this rice recipe if you don't have one. The rice recipe follows the chicken recipe in the post.
Cook your collards separately or layer over the top of the simmering meat and beans about an hour before beans are done. (Yes, a bit of guessing here.) Collards take some time to cook and usually require a little flavoring like a smoked ham shank. This is why I suggest cooking atop the meat stew. However, if your stew has a lot of fat floating to the top and you cannot remove it effectively cooking the collards on top may not be an option. The greens take on the fat. When preparing the collards for cooking remove the spine of the leaf with your knife. This is very tough and doesn't cook down easily.
There you have it!
Say hello to Connie. And thank you!