Francesinha Portuguese Croque Monsieur
The Little Frenchie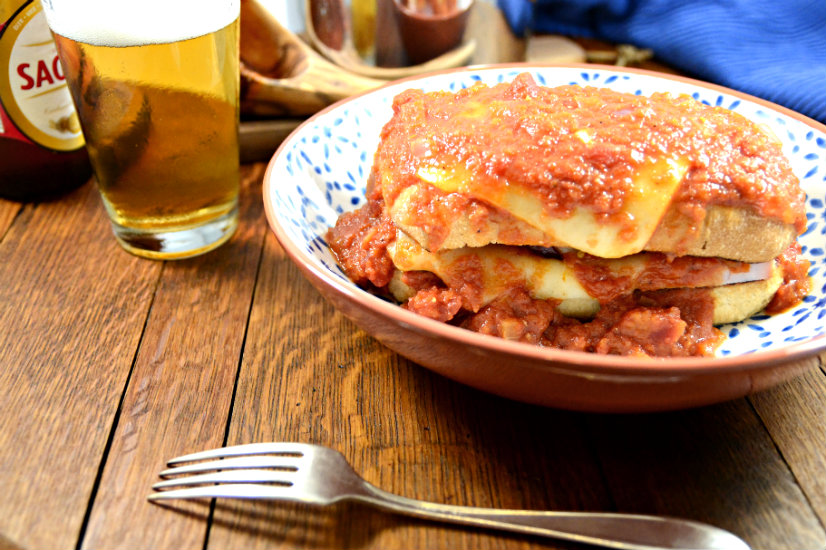 This looks like a sandwich you eat while watching or discussing the game, football to be exact. This is true. BUT I've also heard this sandwich with fries is a traditional lunch around the Porto area in Portugal. OK maybe it doesn't look like this exactly. 
There are two schools of thought about the origin of the Francesinha. One suggesting this was first seen around the 19th century. And the second that this was developed as a take on the French croque monsieur around the 1960's. Whichever, it was fun to recreate.
This recipe is mine and concocted from suggestions of what is often used in the little frenchie. The list of ingredients is endless. I chose some favorites. Actually, the whole list was from my favorites but I wasn't looking to make a foot long sandwich! As it turns out this sandwich is easily two servings. So, what is on this suggested list! You'll see!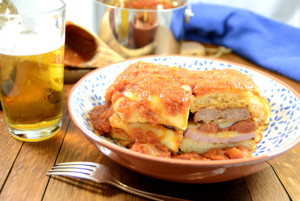 The secret's out. Linguica, fresh sausage, cheese, ham, all smothered in a rich tomato sauce. Options are endless and include chicken or fish, and sometimes a sunny side egg on top. Here's my recipe!
Recipe
Sauce
2 Tablespoons olive oil
1 Small or 1 cup red onion-chopped
2 Cloves of garlic-minced
1 Cup chicken stock or broth
1 Cup beer-a beer you would like to drink
15 Ounces can petit cut tomatoes
2 Tablespoons tomato paste
Salt and Pepper to taste
Pinch or two of red pepper flakes
1 Tablespoon of corn flour (optional-if the sauce still needs thickening after tomato paste has been added and sauce has cooked for awhile)
Cumin and sweet paprika are optional but may overwhelm the sandwich filling. Start with 1/4 teaspoon each if you want something a little spicy, and go from there. If you do not care for smoky flavor, sweet paprika may not be for you.
Heat the olive oil in a medium skillet over medium temperature. Add the onion and sauté until tender. Add the garlic and sauté for a minute or two. Add all the other ingredients (cumin and paprika optional) except the corn flour. Simmer the ingredients for 30 minutes up to an hour or hours if you have the time. The sauce will not be smooth unless you have cooked for hours. So, if you wish to have a smoother sauce blenderize half the cooled cooked sauce until smooth and then return to the skillet. If the sauce is thin add the corn flour while stirring to avoid lumps. If the sauce needs thinning add a little more chicken broth.
Sandwich
2 Slices of sandwich bread (traditional) or use a sandwich roll-I used a ciabatta roll.
Meat selection-water cured ham, linguica made with paprika, fresh sausage (I used a sweet mild Italian) Other options: steak, roast beef, chicken. Fish is another option. Fried egg topper too.
Cheese selection choices-Jack cheese, Muenster, Provolone, Havariti, Swiss, Mozzarella-Choose several of your favorites, 3-4 slices per sandwich.
The ciabatta roll was split in half and the inside layers were pan toasted. (Place bread into a hot skillet, medium heat, until lightly brown.)
The linguica was cut into sandwich lengths, split, and cooked.
The Italian sausage was cut into sandwich lengths, split and cooked.
The ham was cut sandwich size and cooked. If precooked, heat without drying out. Use approximately 1/4 inch slice thickness.
If using steak as one of the meats, pan sear until your desired doneness. (Heat iron skillet over high heat but not a red burner if using an electric stove. Cut off a piece of fat from the steak and while using a fork rub it around the hot skillet. Or use a heat tolerant oil just to coat. I also salt the skillet, a trick I learned from my grandmother.  Place almost room temperature meat into the hot skillet. If need be turn meat almost immediately to avoid burning. The skillet will cool with the meat and turning frequently after this is usually not required. But keep an eye and turn meat as needed to avoid burning. Cook steak about 3-4 minutes per side for a one inch steak for medium rare-medium. Use a meat thermometer for more exact cooking.)
Layer all the warm meat ingredients onto the bread alternating with the cheese. Spoon the warm sauce over all.
Permite Comer! Did I say that correctly?