Portuguese Egg & Bread Soup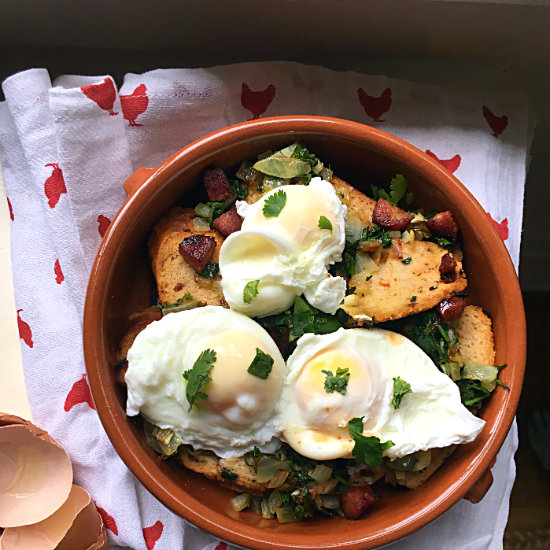 Not exactly a soup or stew but just as hearty!
This is a quick recipe for breakfast, lunch or dinner. Totally vegetarian unless you're inclined to add a little linguica or chouriço … more as a garnish. No chicken broth … it's not needed! The flavor comes from the garlic, cilantro and the crusty stale bread. It's absolutely delicious.
All comes together in about 15 minutes.
Recipe
Serves 4
1/3 Cup best Portuguese olive oil (No Portuguese olive oil? Use your best olive oil)
1 Medium yellow onion-diced small
3 Cloves of garlic-minced
1 Bunch of cilantro-about 1/2 to 3/4 Cup chopped leaves and tender stems (save a little for garnish)
4-6 Slices of stale crunchy crusted bread as you would use with Sopas
4 Eggs-poached for 5 minutes
6 Cups water with 1 T of white vinegar (other vinegar can be used and may impart a different flavor)
5 Ounces of linguica-chopped and cooked separately (optional)
Salt and Pepper to taste
In a skillet with 1 1/2 T of olive oil over medium heat sauté the onion until limp.
Add the garlic and the cilantro to the onion for about 2 minutes.
In the meantime poach 4 eggs in low boiling 6 cups of water and vinegar for about 5 minutes.  Remove with slotted spoon and set aside. Do not throw out the water.
In a large bowl layer the bread slices. Tear into pieces for easier fit.
Drizzle the remaining olive oil over the bread then slowly add 'some' of the egg cooking water. The bread should look soggy but not be floating in water. Sprinkle a little salt and pepper.
Now layer the cooked onion and cilantro/garlic over the bread.Add the cooked eggs on top. Salt and Pepper if desired.
Sprinkle all with cilantro garnish and sausage if using.
Enjoy!