A Perry Family Recipe
Grandmother Rose's Version
Portuguese Marinated Pork Vinho d' alhos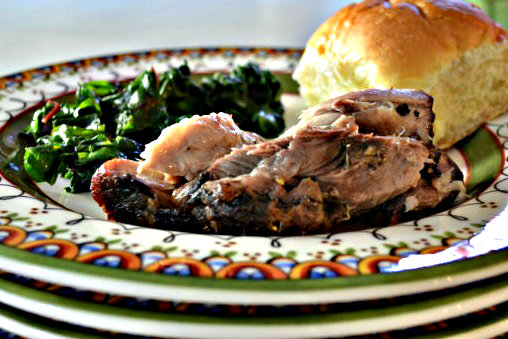 Strong smells of garlic, wine and pickling spices when roasting this pork dish took me back in time.
As my brother and I climbed into his 55 Chevy we were both complaining that we had to go to grandma's for dinner. Again! After all, it was a school night. 
Grandma's house was hot from the kitchen stove. The swamp cooler was working overtime with little result. The smell of roasting pickled pork permeated the entire house. My grandmother greeted us with hugs, and I don't know about Danny, but I ducked to avoid a kiss that was about to be planted right on my mouth.
There was lots of food, the 'thinga thosh' as my brother and I called it incorrectly, salad, baked beans, rolls and dessert from Copley's Bakery, either eclairs or banana sponge cake.
Why had we been complaining?
Enjoy my Grandmother's recipe for Portuguese Marinated Pork Vinho d'alhos. She would be happy to have you at her table!
Recipe
Marinate a pork shoulder, pork chops or spareribs for 2-4 days in the this marinade.
2 Cups red wine vinegar
1 Cup dry red wine
2 Cups of water
6 Cloves of garlic, crushed
2 Tablespoons of pickling spice (place in a tea strainer or spice bag, then add to marinade)
1 Teaspoon salt
1 Teaspoon pepper
1/2 Teaspoon cumin
1/2 Teaspoon all spice
1/2 Teaspoon cinnamon
Mix these ingredients. Place in a glass dish large enough for the meat. Add meat that has been trimmed of excess fat. This fat removal is a must with a pork shoulder. Cover tightly and refrigerate. If the meat is not fully submerged turn the meat every 8 eight hours.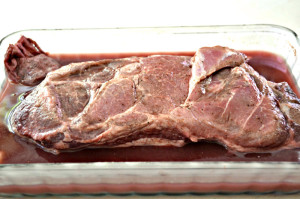 Note spice bag in upper left corner.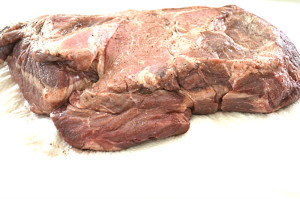 Meat removed from marinade in preparation for cooking. Drain well. Save one cup of the marinade.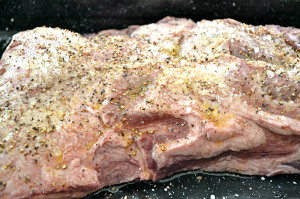 Here the meat has been oiled with olive oil and salted and peppered. Place the meat, fatty side up, in a roasting pan and add the cup of reserved marinade. Ready for the preheated oven at 425 degrees F for 20 minutes and then 325 degrees F for approximately four hours for this 4 pound pork shoulder. For accurate doneness check meat with a meat thermometer. Spareribs and pork chops will cook much faster.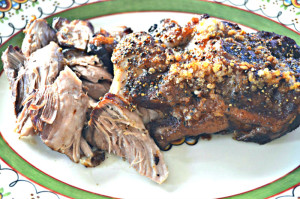 Here is the roast, crusty, tender and moist.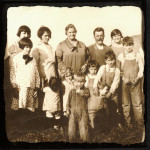 Perry Family 1926
Grandmother Rose, back row and far left
Dad, very front