Portuguese Short Ribs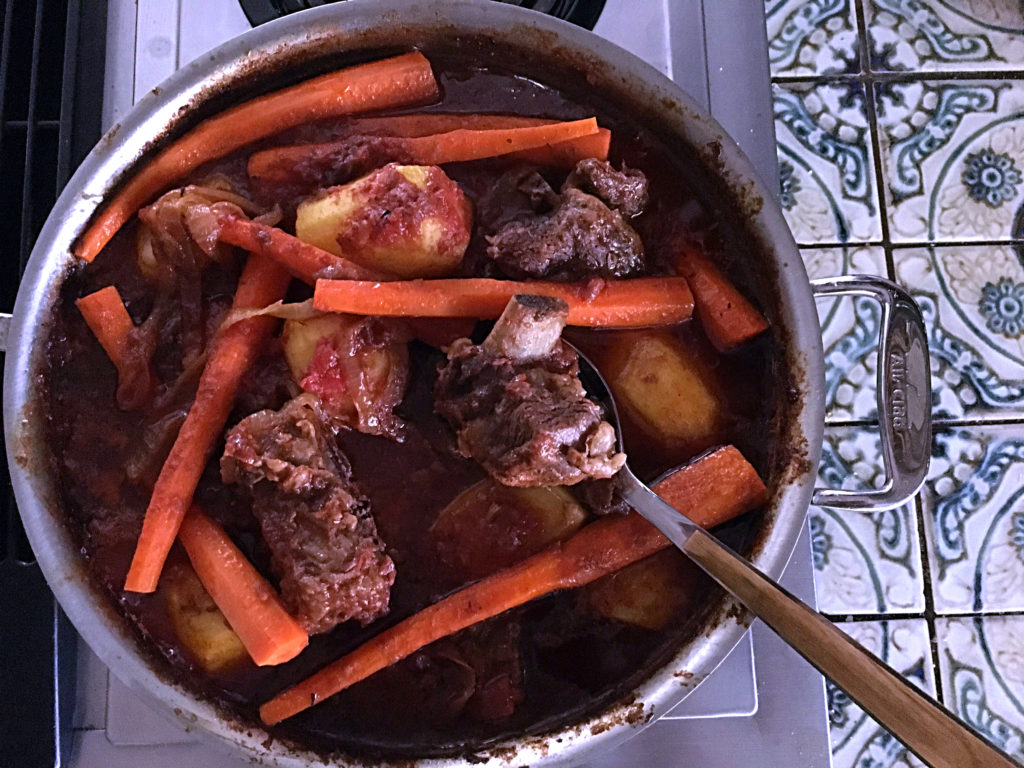 Short Rib Stew or layered over rice!  
So hearty, so delicious, so simple!
Recipe
2 Tablespoons olive oil
1 large sweet yellow onion-sliced
2-3 Cloves garlic-smashed
1/2 Cup all purpose flour
1 Teaspoon salt-or to taste
1/2 Teaspoon freshly ground pepper-or to taste
3-4 Pounds short ribs-boneless or bone-in combination
15 Ounce can cut tomatoes
28 Ounce crushed tomatoes (or combination crushed tomatoes and beef broth)
3/4 Cup dry red wine
1/2-1 Teaspoon cinnamon
1 Teaspoon dried crushed thyme
2 Large bay leaves
*8 Small white or yellow potatoes-peeled (red potatoes if you're into it)
*8-10 Carrots-peeled
*OR eliminate potatoes and carrots and serve over rice.
Garnish with chopped parsley
In a large dutch over or skillet with lid heat the oil over medium burner.
Add the onion and cook until slightly caramelized. Add garlic.
Have meat ready to add with garlic. Turn heat to medium high. (Dredge the meat in a mixture of the flour and salt & pepper. Shake off excess.)
Move onion and garlic to the sides of the skillet and add meat to brown. Short ribs are pretty fatty and don't usually require more oil in the skillet.
Add the tomatoes, bay leaves, wine, spices and bring ingredients to a simmer. Turn heat down to low, cover skillet and simmer for about 3-4 hours or until meat falls apart easily.
If adding carrots and potatoes, add the carrots one hour into the simmering process … otherwise the carrots will be al dente. If you prefer al dente carrots add with potatoes in the last hour of cooking.
This dish (minus carrots and potatoes) can be serve over rice.
Enjoy!