Portuguese Sloppy Joes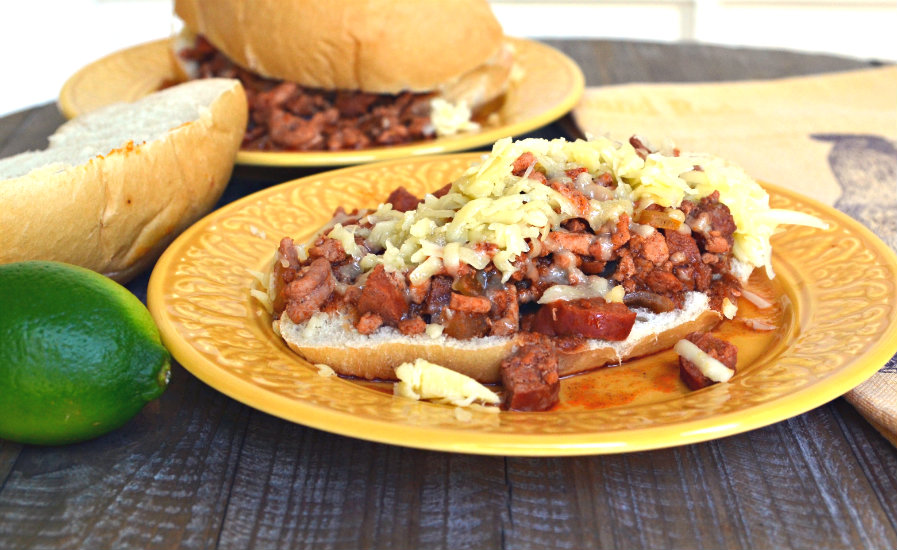 Deliciously Spicy from start to finish. Ingredient filled but so worth the extra TLC because the results are amazing. Starting with a Portuguese Bread, try either of these recipes if you're into bread making, Portuguese Sweet Bread or Papo Secos and then top with São Jorge Cheese. Substituting other rolls won't make a big big difference to this recipe but do try this cheese if you haven't. It has a flavor all it's own and worth searching out. In fact, it makes an amazing breakfast of just cheese and bread. You may not be able to find it at your local supermarket but it's available on-line. So is Portuguese Chourico. Linguica or Spanish Chorizo can be substituted for the Portuguese Chourico in a pinch. In our little city linguica is readily available while the others are not. I did find Spanish Chorizo at our local World Market … a temporary item I'm sure. Again, if you haven't tried Portuguese Chourico it's worth the search.
Enjoy this simple recipe! Not simple in taste.
For a mainland Portuguese sandwich try this recipe here.
Recipe
Serves 4 hungry adults
1 Tablespoon of olive oil
1 Medium sweet yellow onion-diced
2 Cloves of garlic-minced
1/2 Pound chourico-casing removed and chopped
1 Pound ground pork-extra lean is not recommended, too dry and the texture is thrown off
2 Teaspoons paprika (smoky paprika can be used if you prefer)
2 Teaspoons ground coriander (Cumin can be used but keep in mind it is stronger in flavor and less may be required.)
1 Teaspoon ground allspice
2 Tablespoons Worcestershire sauce
2 Tablespoons brown sugar
1 8 Ounce can of tomato sauce
1 Cup of chicken broth or stock
1 Lime-zest and juice
2 Bay leaves (dry)
Salt to taste
Grated or slices of São Jorge cheese
4 Rolls
Sauté the onion in the olive oil over medium heat until slightly limp. Add the garlic and continue for about 1 minute.
Add the chourico and the ground pork. Continue cooking almost through. Pour off fat if you see an abundance.
Add all the other ingredients and simmer on low for about 20+ minutes or until the mixture thickens.
Let rest a few minutes away from heat before serving. Remove bay leaves.
Serve on rolls with slices of cheese. Don't forget the Portuguese beer!