Portuguese Cowboy Spaghetti
With Linguica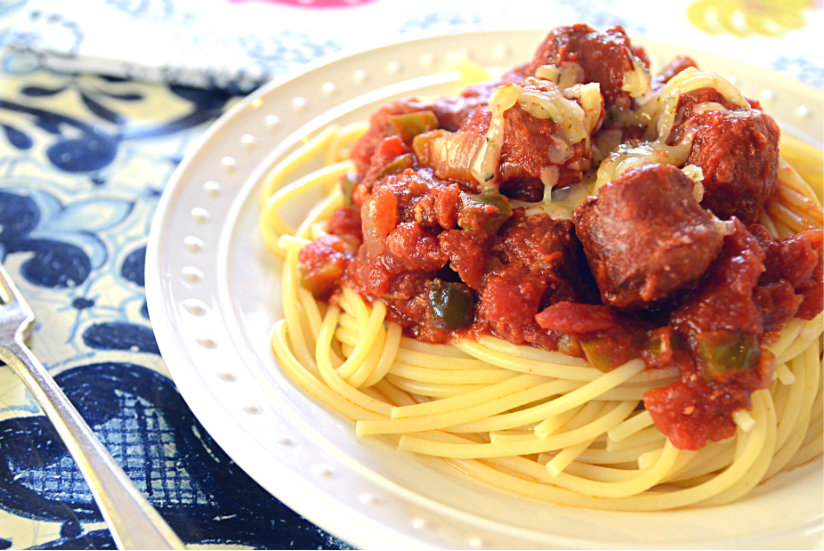 My love for Italian and Portuguese food, and being a former cowgirl have collided into this surprising dish. If you think this might be Italian sauce with linguica thrown in … guess again. It's truly Portuguese in flavor through and through. Would be delicious even without the linguica … so my daughter says. For a real cowgirl dish mix the sauce thoroughly through the cooked spaghetti and sprinkle with a little Jack Cheese … Pepper Jack even.
As far as ingredients go, if your pantry has all you need for Italian spaghetti sauce you are more than half way there. Just a little Santo Domingo Sweet Paprika, and pickling spices to bring out the taste that is so familiar in Portuguese cuisine and you have it made. It's amazing!
Recipe
1 Pound linguica
1 Tablespoon olive oil-always extra virgin unless otherwise stated
1/2 Large onion-diced
1 Green bell pepper-diced
2-15 1/2 Ounce cans of petite cut tomatoes
8 Ounce can tomato sauce
2 Tablespoons tomato paste
1 Tablespoon whole pickling spices placed in a spice bag or tea strainer
1/2 Teaspoon Santo Domingo Sweet Paprika or your favorite smokey sweet paprika
1/3 Cup red wine (optional)
Salt and Pepper to taste
1 Pound spaghetti
1/4 cup shredded Jack Cheese, more for sprinkling
3 Green onions, sliced (optional for garnish)
Cut linguica in one inch pieces and cook in a skillet over medium heat until fat is rendered. Drain off fat and set cooked linguica aside.
In a large skillet sauté the onion and bell pepper over medium low heat until tender.
Add the tomatoes, tomato paste, tomato sauce, the spices, wine to the onion and bell pepper. Simmer one hour. About 30 minutes into simmering add the cooked linguica. Continue simmering another 30 minutes. Sauce should be nice and thick. Remove the spice bag. Add 1/4 cup shredded cheese to sauce. Allow to melt.
Cook the spaghetti according to the package directions. Taste the sauce for salt and pepper and add as needed. Pour sauce over cooked spaghetti and mix thoroughly.
Serve dish with shredded cheese on the side.
Enjoy!