Portuguese White Bean Soup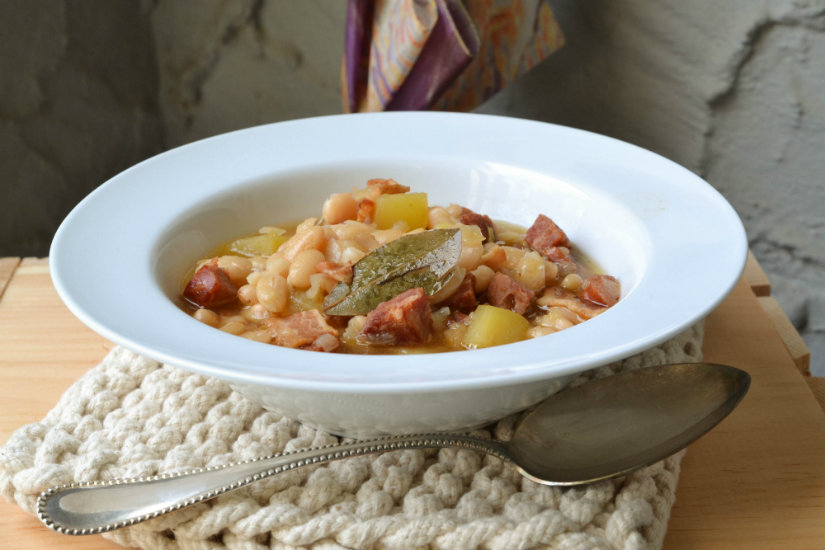 Add a little less broth and you'll have Portuguese White Beans. Love, love, love this soup. Add greens, spinach, kale, swiss chard or turnip greens for a more complete meal. Chop these pretty fine to speed the cooking. This is just the perfect soup for our rainy days.
If you're looking for a sweeter (and I mean sweet!) Portuguese White Bean Recipe try this.
Recipe
3/4 Pound uncooked Northern white beans-pick out pebbles, rinse & drain, soak in water (2 inches of water over beans) overnight
2-4 Slices of bacon (chopped)-the more bacon the more bacon taste
1/2-3/4 Pound linguica-slice into one inch pieces then each of these slices into quarters
1 Medium sweet yellow onion-chopped
3 Cloves of garlic-minced
5 Cups of chicken broth or stock-add more for soupier result, especially if adding greens
2 White potatoes-cubed
2 Large bay leaves
Salt to taste
Cook the linguica separately to render off fat, do not completely cook. Drain and set aside.
Cook the bacon in a dutch oven to render off the fat and brown slightly. Pour off bacon grease.
Add the onion and cook up until limp and reduced in volume.
Add the garlic to the bacon/onion mix and sauté for one minute.
Add the soaked beans, linguica, potatoes, broth and bay leaves to the bacon/onion/garlic mix.
Cook until beans are tender about two hours. If you use russet potatoes, add 1/2 hour before serving. Russets will begin to fall apart if cooked two hours or longer.
If adding greens add about 30-40 minutes before serving.