Pound Cake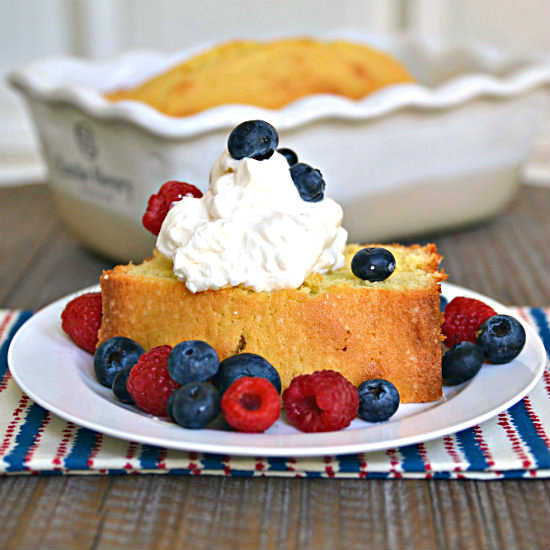 Pound Cake is so versatile. It's a year around treat but in our family berry season is the most popular. It easily becomes a strawberry shortcake, or we slather it with whipped cream and an assortment of unsweetened berries. Then there's George who really prefers no topping. That speaks volumes about this recipe.
Recipe
Preheat oven to 300 degrees F.
Grease and flour a 9 inch loaf pan.
1 3/4 Cups all purpose flour plus 1 tablespoon
1/4 Teaspoon salt-eliminate if using salted butter
1/4 Teaspoon baking powder
1 Cup butter-room temperature
1 Cup sugar
1/2 Teaspoon lemon zest
Heaping Tablespoon of lemon juice
4 Eggs-room temperature
Whisk together the first three ingredients and set aside. Whisking makes the flour less packed and creates a lighter texture in this recipe.
Cream the butter until light and fluffy, about 1 minute.
Add the sugar to the butter and beat for about 5 minutes increasing speed of mixer from low to medium. Increase speed to high and beat an additional 3 minutes.
Add the eggs to the butter/sugar mixture. Beat until smooth and creamy, about 2 minutes.
Fold in the flour mixture and then on low-medium speed beat until just incorporated. Too much beating will cause dryness.
The batter is thick. Pour into prepared loaf pan and smooth the batter evenly.
Bake for 1 1/2 hours or until wooden screwer comes out clean. Over-baking causes dryness.
There you have it!
Whipped sour cream or creme fraiche instructions here.
Or simply whip up 1/2 pint heavy whipping cream with 2 tablespoons of powdered sugar (or to taste) and 1/2 teaspoon of vanilla. Beat until stiff and smooth in appearance. Over-beating creates a curdled look and a less creamy texture. Yep, almost butter.