Pozole Verde Soup Portuguese Style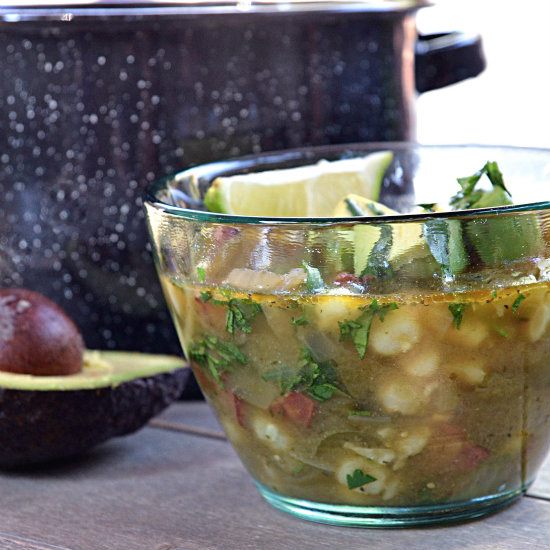 Three bowls later I've decided this is a keeper. My guy friend checking out the local sports bars in Visalia fell for Rookie's Posole Verde Soup. Three days in a row or was it four! His excuse was Fitbit steps as each day around noon off he went walking Main Street. I'm not sure if he topped it off with a draft, his usual reason for stopping at Rookies. But he couldn't say enough about this soup. I decided then and there to create Posole Verde Soup, my style, Portuguese style. Would you believe I'm not the first to use linguica.
Chicken or pork or a combination is most often used for the authentic Mexican style soup or stew. Posole or Pozole means hominy, a main ingredient. And verde is everything green; tomatillos, jalapeños, poblanos, avocado, cilantro and lime.
What fun creating this soup! And yep, I did have three bowls to determine just how much I loved it. The lime adds just what's needed to bring forth the flavors. So, don't skip it!
Recipe
2 Tablespoons olive oil
1 Yellow onion-chopped
2 Cloves garlic-minced
2 Poblano peppers-roasted, stem & seeds removed, chopped roughly
2 Jalapeno peppers-stem & seeds removed, sliced
5 Medium tomatillos-husk removed, stem removed, cut into chunks
1 Quart low sodium chicken broth
1 Teaspoon ground cumin
1/2 Teaspoon oregano
2 15 Ounce cans hominy-drained and rinsed
1 Pound linguica-one inch slices then quartered, cook slightly to render off fat
1/2 Cup roughly chopped cilantro-stir in just before serving
Serve with lime slices or add 1-2 tablespoons juice to entire soup
Salt to taste
Serve soup with topper of broken tortillas chips, chopped avocado, sliced radishes
Heat oil in a dutch oven over medium heat. Add onion and sauté until translucent. Add the garlic and continue cooking for 1-2 minutes.
Add the peppers and tomatillos and continue cooking another minute or two.
Next add the spices, broth, hominy and linguica. Simmer for about 10 to 15 minutes.
Stir in lime juice if not serving slices. Taste for salt need.
Add cilantro. Stir in and serve.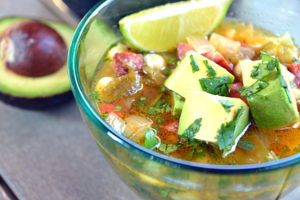 Roasting poblanos can be done on an electric stove easily. Heat the element to medium to medium high. Place the peppers directly on the element. Stay attentive. Turn frequently to evenly roast all sides. Yes, it will have a black look. This is not a smokey procedure. If it's smoking your burner is too hot. After all sides are roasted place the peppers in a bowl and cover with plastic wrap to create a steam. Peel skin off, cut off stem and remove seeds.