Pulled Brisket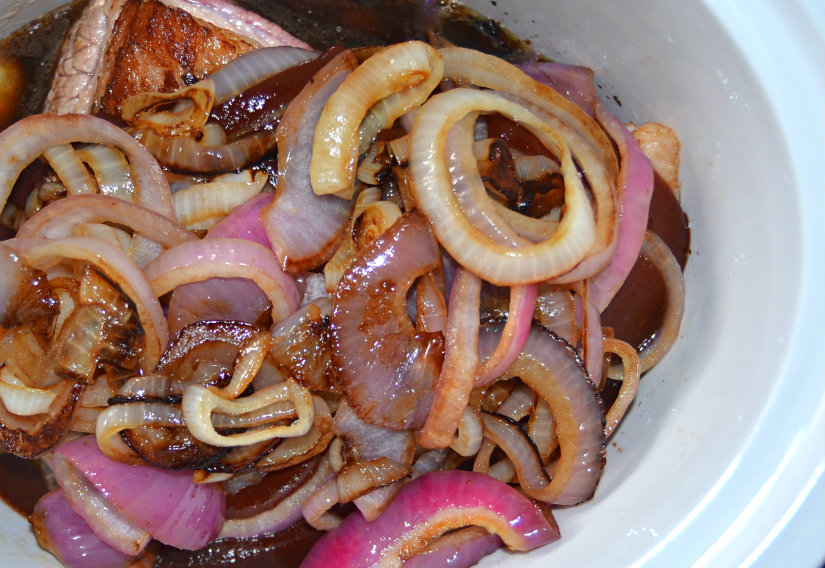 Step one for my Barbecued Brisket Soup … crock pot cooking the brisket for 6-8 hours. This is a great way to cook brisket even if you don't move-on to step two. Don't have barbecue sauce but have the ingredients? Try my recipe here.
3 Pound brisket
1 Tablespoon olive oil
Large red onion-sliced
2 Cloves garlic-minced (optional)
3/4 Cup water or beef broth
1 Cup favorite barbecue sauce
In a heavily bottomed skillet or roaster over medium heat sauté the onion in olive oil until browned slightly. Add garlic if using in the last minute and turn heat down a bit. Remove from skillet and set aside.
Add brisket after heat has been increased to medium/high but not smoking hot. Sear and brown both sides. Use the same skillet as used for the onion and garlic. Remove meat when nicely browned. Turn heat off.
After a minute or two add slowly 3/4 c water to drippings. Loosen drippings. Turn on the heat low if you need to help loosen. Scrap the drippings and pour all into bottom of crock pot. If using beef broth skip this step with drippings or if you like add the broth to loosen drippings.
Now add the brisket to the crock pot, fat side up.
Add the barbecue sauce to the top of the meat . Add onion (and garlic if using).
Cover and cook on low heat.
Test after 6 hours for doneness. Should  easily pull apart.
Either shred with two forks after done (do not remove the cooked onions) or remove to platter and thinly slice. If using in my soup, Barbecued Brisket Soup, refrigerate to make fat removal easier.