Pumpkin Braised Short Ribs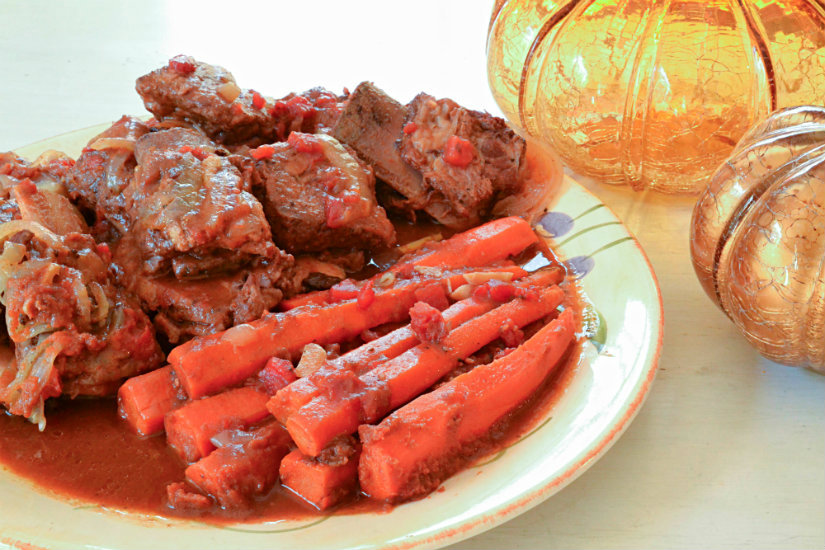 Lots of wonderful ingredients make up this savory pumpkin dish. Whether you're into pumpkin, just a hint here, or not this is an amazing short rib treat. Impress your family or guests with this easy dinner presentation. I failed to mention this even tastes better reheated. Yes, it's one meat dish that can be served as leftovers and no one is the wiser.
Happy First Day of Fall 2016!
Recipe
Preheat oven to 350 degrees F. During the braising turn to 200 degrees.
Meat and Vegetable Ingredients
1/4 Cup high heat oil
5 Pounds bone-in short ribs-2 inch thickness is best
Salt and pepper
1 Yellow onion-peeled and sliced
1-2 Pounds carrots-peeled and if thick slice in half lengthwise
4 Large garlic cloves-peeled, smashed and sliced thin
3 Ribs celery with tops-cut in half
In a large skillet heat the oil (just enough oil to slightly cover the bottom of the skillet) over high heat (not red burner) until the oil begins to smoke slightly. Add a portion of the meat at a time. Salt and pepper generously as you brown all sides. Each batch takes about 8 minutes. Add a little more oil as you go if needed, however, ribs are usually pretty fatty and you may find 1/4 cup very generous and not totally needed.
Remove the meat as it is browned and place into a heavy roaster.
When all meat is browned turn the heat down to medium and brown the onions, followed by carrots and ribs of celery. Quickly add the garlic at the end.
Layer vegetables and garlic over the meat and pour the warmed liquid mixture below over all. Ingredients should fit tightly in an appropriately sized roaster or dutch oven.
Seal the roaster well with a tight fitting lid. Place into the oven and turn the temperature to 200 degrees F. Allow 8 hours for the best outcome. Check for doneness. The meat should fall from the bone.
Remove ingredients to a platter and keep warm. Serve liquid ingredients on the side after removing the fat. Or pour a small amount over the top of meat and vegetables.
Liquid Ingredients
15 Ounce can pumpkin puree-not pie filling
1 cup water or beef broth
15 Ounce can petite cut tomatoes
1 Cup burgundy wine
3 Tablespoons of red wine vinegar
2 Tablespoons brown sugar
1 Teaspoon pumpkin pie spice
Add these 7 ingredients to a medium sauce pan and simmer for 5 minutes. Taste for salt and pepper need.