Pumpkin Cheesecake Pie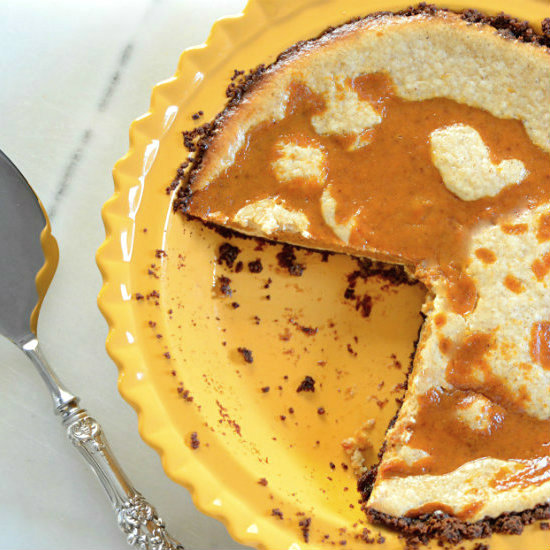 One of my ideas with pumpkin … combine my Pumpkin Pie recipe with my Cheesecake Bars. Pretty easy. And in fact, bars could be made instead of a pie with the very same recipe. I had these leftover gingersnap cookies and used for the crust … Just seemed perfect for this dessert. I'd like to claim originality of this threesome but if you like me do a search … this is a very popular combination. I do admit I keep it simple though … no prebaking the crust and all can be mixed by hand. It's a quick mix.
Recipe
Preheat oven to 350 degrees F.
Crust
1 1/2 Cups crushed fine gingersnaps
6 Tablespoons of butter-melted
Combine and press into a 9 inch pie plate. Set aside.
Cream Cheese Mixture
8 Ounces cream cheese-room temperature
1 Large egg
1/4 Cup sugar
2 Tablespoons cream, in a pinch milk
1-2 Teaspoons lemon juice (optional)
1/2 Teaspoon vanilla
Mix ingredients until smooth and set aside.
Pumpkin Pie Mixture
Using only 1/2 of my Pumpkin Pie ingredients:
1/2 Cup sugar
1 Cup of pure pumpkin (careful not to confuse with pumpkin filling)
1/4 Teaspoon salt
1/2 Teaspoon cinnamon
1/4 Teaspoon ground ginger
1/8 Teaspoon cloves
Pinch of nutmeg
1-2 large eggs
6 Ounces evaporated milk
Mix these ingredients until smooth and set aside.
Final Steps
Pour the cream cheese filling into the crust lined pie baking dish.
Spoon the pumpkin into the dish next placing in random areas over the cream cheese filling. The fillings will begin to marble. Try your hand at making a design or not. Use a knife to cut through the fillings to marble if desired. Avoid touching down into the pie crust with the end of the knife.
Bake for 45 minutes or until a toothpick comes out clean when the pie is pierced in the center.