Quick & Easy Bolognese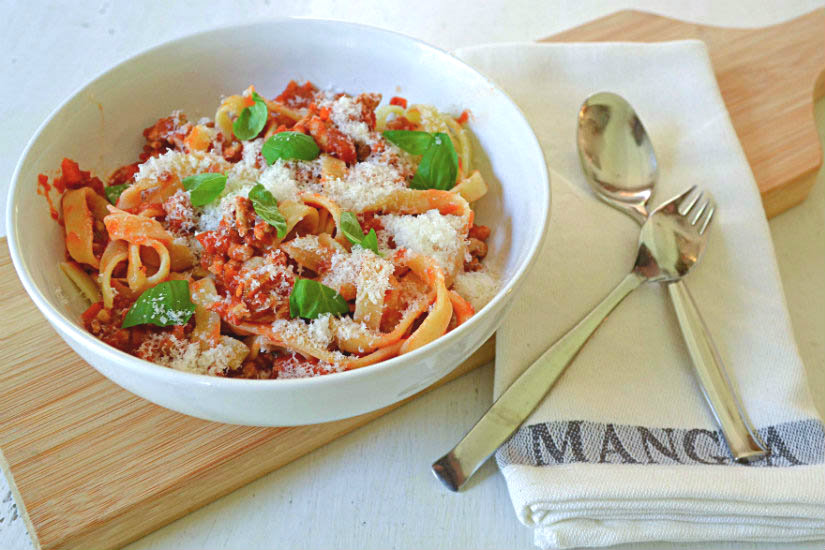 There is nothing more delicious in the world of pasta sauces than a good bolognese. This sauce is often a long cook and if you have a "want it now" mentality like I do now and again, a four hour recipe is just not going to get it. You may even prefer this to a slow cook … maybe because the ingredients have not broken down in the cooking process. I love serving this sauce over tagliatelle pasta. I think you'll like it!
Enjoy these recipes too, Spaghetti Sauces & Slow Cook Meat Sauce. Delicious Meat Sauces and More!
Recipe
3 Tablespoons olive oil
1/2 Yellow onion-minced
2 Carrots-peeled and diced small
2 Celery ribs-diced small
2-3 Cloves garlic-minced
1 Pound ground pork (If you use lean you will not need to drain off excess fat but may lose a bit of flavor. You may also use 1/2 ground beef with 1/2 ground Italian spiced sausage for a change up)
28 Ounces of crushed Italian tomatoes-Italian tomatoes are generally sweeter
15 Ounces of finely cut tomatoes
1/2 Teaspoon dried basil leaves
1/2 Teaspoon dried oregano leaves
1/2 Cup or more of fresh bail leaves
Salt and pepper to taste
Grated Parmesan for sprinkling
1 Pound tagliatelle cooked al dente in plenty of salted water-drained but not rinsed to serve
In a medium to large skillet heat the olive oil over medium/high heat. Add the onion, carrot and celery. Turn heat down if begins to brown. Cook these until slightly tender. Add garlic and stir to avoid burning garlic. Cook one minute more then …
Add the ground meat a little at a time to maintain skillet heat. Brown slightly. Drain if your meat is fatty. I used lean pork and there was almost no rendered fat. I did not drain.
Add the tomatoes, dried herbs, salt and pepper. You may wish to add a splash of dry red wine. Because I used just the pork I used a dry white wine, actually 3/4 cup. It is unlikely the wine will totally cook off … so, this is optional.
Simmer for about 20 minutes. Cook your pasta near the end of this process.
Serve the sauce mixed into the tagliatelle, add the basil and Parmesan to taste.
Mangia!