Instant Beef Bourguignon
Well, Maybe Not Instant But Pretty Close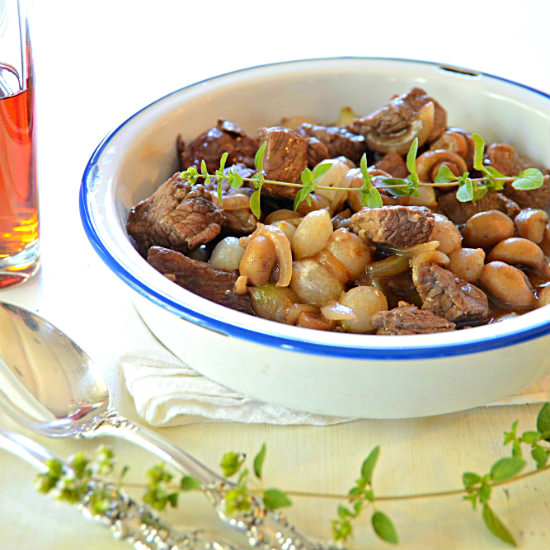 Having success with this quick dish is to avoid substitutions of lesser cuts of beef … Definitely use fresh mushrooms, smoky applewood bacon and caramelize caramelize. I've tried to economize with other than filet mignon but the quickness of this dish requires a tender cut. Are you thinking why smother a filet mignon? I don't consider quality red wine and cognac a bad addition to $25 a pound beef. Give this a try when you wish to impress.
And for those purists who just can't do this to a filet mignon try this.
Recipe
Serves Four
1 Tablespoon butter
1 Tablespoon olive oil
4 Slices of bacon-cut into one inch pieces
8 Ounces of small button mushrooms-washed and excess stem removed (can't find button? sliced small mushrooms work)
1 Yellow onion-quarted and sliced thin diagonally
8 Ounces frozen pearl onions
4 Cloves garlic-sliced
2 1/2 Pounds filet mignon-cut into generous one inch chunks
1 Cup dry red wine-pinot noir or other quality red wine you would like drinking
1/4 Cup cognac-generous
14 Ounces of beef broth
2 Tablespoons flour
Sprigs of fresh thyme tied together, or teaspoon dried
Salt and pepper to taste
Serve over egg noodles-optional
Use a heavy skillet for this recipe. And no cleaning of the skillet between sauté etc.
Melt butter over medium heat and sauté the mushrooms until slightly brown. Remove the mushrooms and set aside.
Add the olive oil and sauté the sliced onion. Add garlic at last minute to avoid burning. Remove the onion and garlic and set aside.
Cook up the bacon in the same skillet to crisp. Remove the cooked bacon and drain all but one tablespoon of bacon fat. Push aside excess cooked-on drippings.
Add the pearl onions that have been left at room temperature while other prep was taking place. Sauté pearls until slightly browned and tender. Remove and set aside.
Heat skillet to medium high and quick sear the filet for about one-two minutes. Looking for a medium rare finish. (Remove any dripping from the skillet that may burn during this searing process.)
Turn heat to medium and add the broth, thyme, red wine, cognac and the sautéed vegetables. Bring heat up but avoid any boil. Cook for a minute or two.
Taste for need of salt and pepper.
Add a bit of heated liquid to the flour, enough to make thickening. Add this to your dish and heat through until nice and thick.
Remove tied sprigs of thyme before serving.