Ranch Pasta and Ham
For Everyone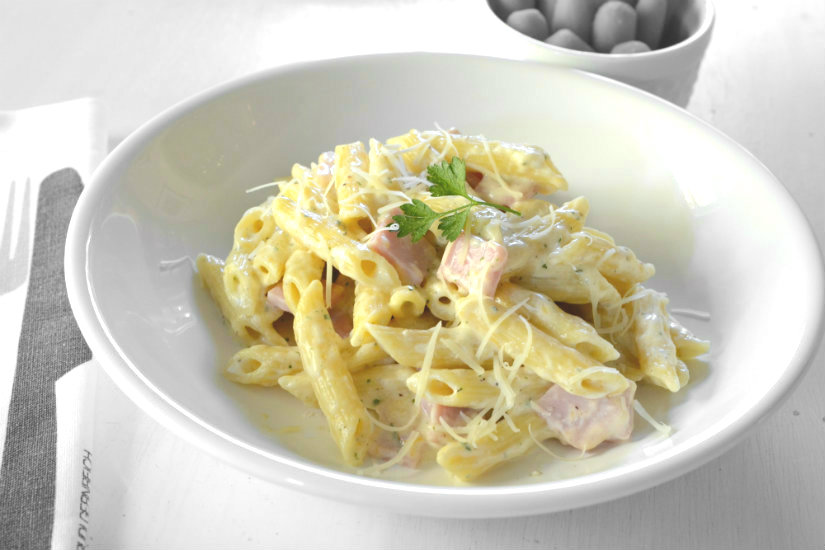 Not really Italian except for the pasta and Parmesan. Made for the little ones who are into ranch dressing … But come to find out, everyone loved this simple pasta dish. We have company and I opted to make this for our little guest. Mom had to see the ingredient list and do a taste test and she approved. The leftovers might even be tastier as the flavors increase.
Recipe
Preheat oven to 350 degrees
Serves 4 adults
1/2 Pound Penne pasta-cooked al dente per package directions
1/2 Cup low fat or nonfat milk
1 Cup combination Colby and Monterey Jack cheeses-shredded
1 Heaping tablespoon (dry) ingredients from a packet of Ranch Dressing
1/4 Teaspoon ground pepper
1 Cup cooked ham-cubed
1/2 Cup low fat sour cream
1/4 Cup sliced green onions (optional)
1/2 Cup frozen peas instead of green onions (optional)
Grated Parmesan cheese for sprinkling.
Cook pasta al dente. In the meantime, heat the milk over medium-low heat. Add the cheese to melt. Remove from heat and add ranch dressing spices, pepper and ham. Pour mixture over drained cooked warm pasta.
Fold in sour cream.
You can now serve and sprinkle with Parmesan.
If adding peas fold in with the sour cream and bake, covered, for 15-20 minutes until heated through.