Ratatouille Our MockUp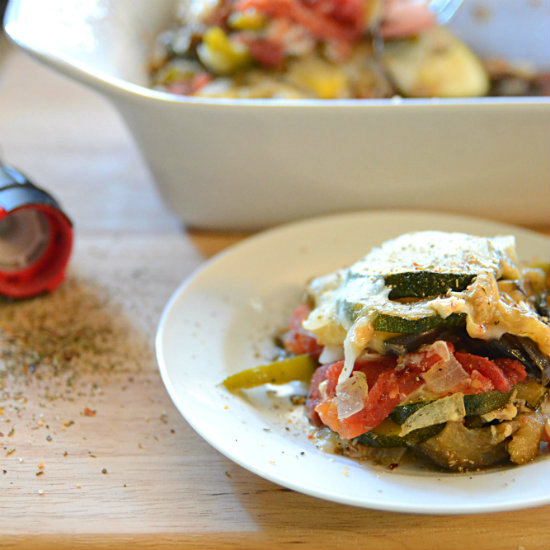 We called this recipe a mockup. Our family benefited from the generosity of the local farmers, my dad's customers, receiving gifts of veggies and fruit. We had a vegetable garden too! What do you do when you've all these vegetables? You become creative. Not until years later did I realize our family dish had a name … Ratatouille!
Rather than other spices we used Italian spices. So, I like to say this is an Italian Ratatouille. And if you'd like a South-of-the-Border version … that can be done easily with a change up of spices and cheeses, and by adding green chilies. How easy is that! And another dish is created!
Warning! Your family will want this over and over. One point to make here … this dish is usually made with eggplant. Eggplant can make or break this recipe. The large type eggplant is often more available. This variety is usually tougher and likely a bit bitter when comparing to a Japanese eggplant. I definitely recommend some special care for the eggplant used in this recipe. Skipping this step might have your family sticking their noses in the air to this dish.
Recipe
Preheat your oven to 350 degrees F
Use a 9 by 9 inch baking dish with a 3 inch depth or a suitable casserole dish
2 Tablespoons cooking oil-such as canola
2 Tablespoons olive oil
1 Yellow onion-chopped or sliced
1 Clove garlic-minced
1 Large eggplant or two cups cubed
2-3 Cups combination of summer squash; zucchini, crookneck, yellow for examples-sliced
1 Green bell pepper-quarted and then sliced 1/4 inch across
1 1/2 Cups peeled and seeded tomatoes-sliced or chopped (optional-15 ounce can tomatoes)
1 Teaspoon salt or salt to taste actually used in the recipe (more for eggplant preparation-this salt is removed by rinsing)
1/2-1 Teaspoon Italian seasonings (fresh oregano and basil can be a replacement here)
1/4 Cup Parmesan cheese-Shredded
1 Cup Shredded mozzarella cheese
Optional: fresh basil for garnish
Note: the salt and spices will be divided and sprinkled as you layer.
Peel the eggplant or not. Or peel strips off and leave strips … making it striped. Sometimes the peel is tough. This reduces the toughness. Next, slice into 1/4 inch slices. Heavily salt all the slices, both sides … using about one tablespoon for the entire eggplant. All this salt will be washed off before cooking. Put the slices into a colander to allow drainage of beaded water from eggplant. Let set for one hour. After an hour rinse off all salt in cool running water and then pat firmly dry with a clean dish cloth. The slices may look shriveled. That's just fine.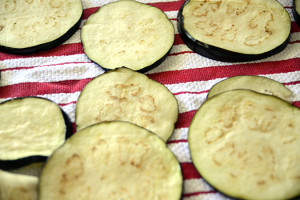 Now cut into smaller pieces … about 1 1/2 inches approximately.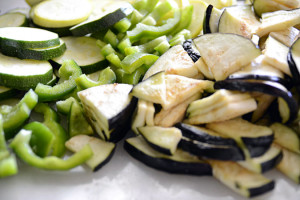 Here are the veggies ready for sautéing.
Heat the canola in a large skillet. Canola tolerates a high heat better than olive oil. We need a higher heat for the eggplant. Add the eggplant to moderately hot oil (must be fairly hot to avoid absorbing the oil) in single layer. Cook for several minutes to both sides, browning the eggplant. Remove and drain.
Remove the excess oil from the skillet and add one tablespoon of the olive oil and sauté the onion.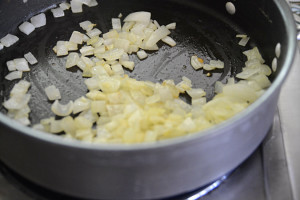 Sauté onion several minutes until browning slightly around the edges. Add garlic and sauté a minute longer. Remove and set aside. Next add the green bell pepper. Sauté until the pepper begins to lose color. Remove and set aside.
Add another tablespoon of olive oil and make sure skillet is still hot. Add the squash and cook for a few minutes on both sides. Slight browning is a good thing. This produces a greater taste.
In a greased or cooking sprayed casserole dish begin layering the ingredients.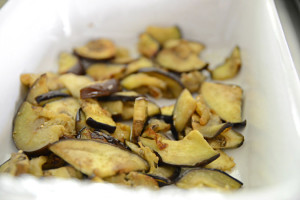 One half of onion and eggplant first. Sprinkle with a little of the salt and spices. Then one half the squash and bell next. Sprinkle again with the salt and spices. Next one half the cheeses.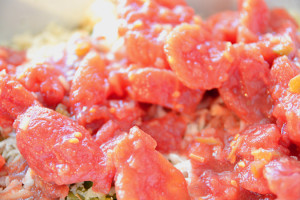 All tomatoes come next. Sprinkle with a little of the salt and spices. Then layer again all other ingredients (sprinkle the salt and spices as before) … ending with the cheeses.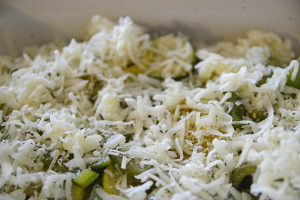 Bake for 30 minutes until cheese is melted and dish is bubbling slightly.
And there you have it!