Roasted Vegetables Recipe With Quinoa
Serve Warm or Cold, Salad or Main Dish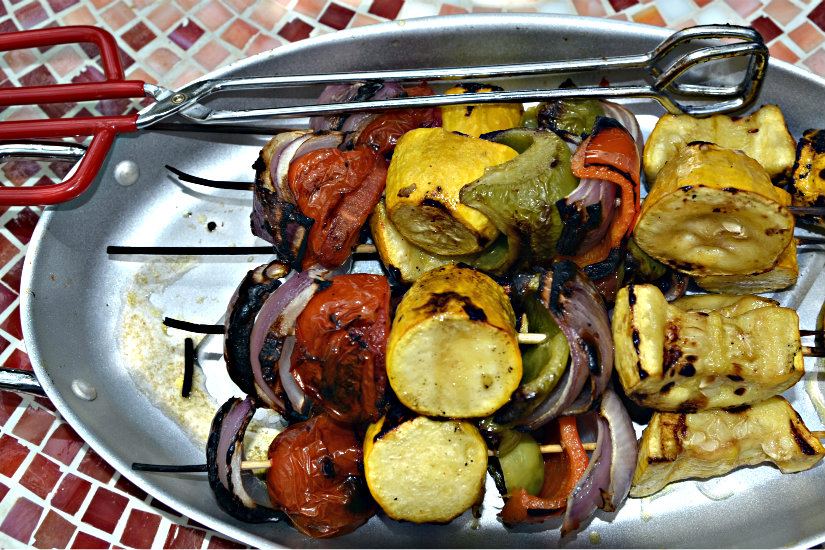 Easy and simple, this is a keeper! Roasted vegetables are just so full of flavor. Added to quinoa for a nice salad as a main dish or a generous side dish. This is how it evolved.
Several days ago I was giving thought to a Skewered Italian Sausage and Vegetables Recipe for the BBQ. I had all these beautiful vegetables from my garden. Then someone mentioned quinoa and how delicious it can be as a salad. Since half the family is vegetarian (or pretty close to being vegetarian) why not do a quinoa salad with roasted vegetables and another main dish with the Italian Sausage. (See Next Post for the Italian Sausage Recipe)
And as it turns out the recipe is actually vegan too. Yes, the grill was cleaned … so no left-over drippings!
Let's get started.
Recipe
Serves 2-4
Quinoa
1 Cup uncooked quinoa
2 Cups vegetable broth (optional-chicken broth)
3 whole green onions-sliced
1/2 Cup diced red, green or yellow bell pepper or combination (or other raw vegetables from your garden)
Salad dressing for drizzling
Rinse the quinoa thoroughly in a strainer under running water.
Place the quinoa and broth into a sauce pan and bring to a simmer.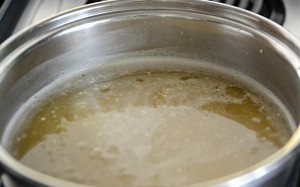 Simmer the quinoa for 15 minutes or until done. It will be slightly al dente.
Cool to room temperature if you plan to serve cold. Add other ingredients and refrigerate.
If eating warm add the other ingredients.
Just before serving drizzle with the salad dressing. Serve dressing on the side.
Dressing
1 Cup extra virgin olive oil
1/2 Cup wine vinegar
3/4 Teaspoon salt
1/4 Teaspoon dry mustard
1/4 Teaspoon cayenne
1/4 Teaspoon tabasco sauce
1/4 Teaspoon garlic salt
1/2 Teaspoon sugar-optional
3 cloves garlic, 1 minced and the other two smashed and left whole
Mix all these ingredients and set out at room temperature if using right away. Otherwise refrigerate and use within 24 hours.
Roasted Vegetables
1 Zucchini-cut into medium pieces to bite size pieces
1 Yellow squash-cut into medium pieces to bite size pieces
4 Roma tomatoes-cut in half-these will cook faster
1 Red onion-cut into quarters or more sections if a large onion-flat ones are sweeter
1 Red bell pepper-cut into medium pieces to bite size pieces
1 Green bell pepper-cut into medium pieces to bite size pieces
Try to cut the vegetables uniformly with tomatoes being a little larger. Tomatoes just cook faster. You can try cherry tomatoes if you like … making sure the other vegetables are cut appropriately same in size.
Place your vegetables except for the tomatoes into a plastic bag or a bowl and drizzle with a generous amount of the dressing.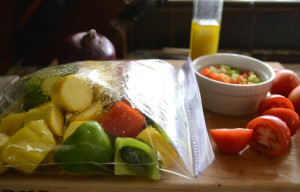 For the BBQ place onto skewers alternating the vegetables with some consistency. I did go thru the skin of the vegetables as often as possible. They hold better to the skewer. I used bamboo skewers which tend to burn anywhere they are not covered. The heavier metal skewers are appropriate for the larger pieces of vegetables and meat. You can try them here if you prefer.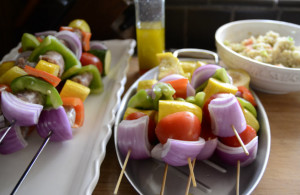 Place your vegetables on a hot BBQ grill, around 450-500 degrees F. Cover (optional) and cook about 30 minutes or until the tenderness you prefer. If you don't use a lid the cooking could take longer. Check frequently to assure they are not over cooking or are not cooking unevenly. Move about on the grill as needed. The tomatoes will slip off if not careful. And sometimes even if you are careful! When done remove from heat and serve atop the quinoa with more dressing on the side.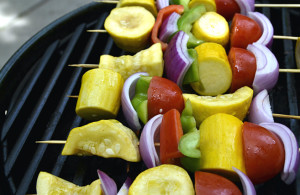 For the Oven place the vegetables into a roasting pan single layer. Make sure all the vegetables are coated with the dressing. Drizzle dressing on tomatoes. Place the roasting pan into a preheated oven of 425 degrees F. The roasting again will take about 30 minutes depending on your oven and the size of the vegetables. Check for the firmness you like during cooking process. Remove and serve atop the quinoa. Don't forget the dressing on the side.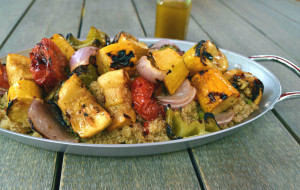 This was sooo delicious! Your family will love it!