Santa Maria Beans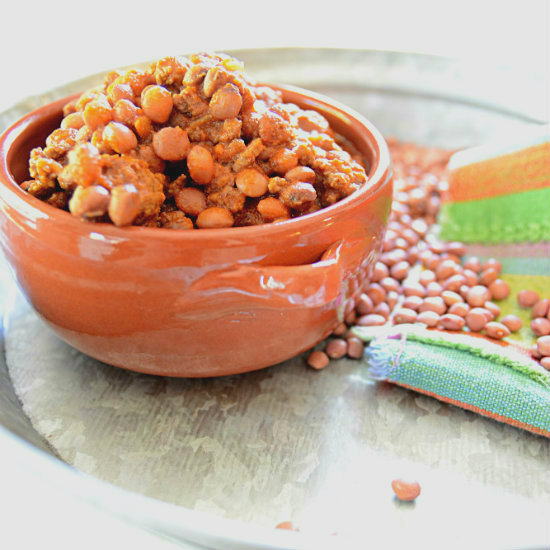 It's pretty obvious beans are a favorite of mine and my family … well, at least most of the family anyway. This is the time of year for barbecue and tri-tip. In the sunny Santa Barbara area of California Santa Maria barbecued tri-tip and poquito beans are on the menu. Add these beans to your barbecue for a tasty side dish. I like to cook these as a main dish too.
Recipe
3 Slices of thick peppered bacon-sliced across every inch to large dice
1 Large sweet yellow onion-diced
1 Large garlic clove-minced
1 pound 85% fat free ground beef
1 Tablespoon Schilling Mexican Seasoning
1 Pound poquito beans-picked through to remove stones and then rinsed & drained
2 (8) Ounce cans of tomato sauce
6 Ounces of enchilada sauce
4 Cups of water (and more as needed to cook beans with a thin thin layer of liquid over the top of all ingredients)
1 1/2-2 Teaspoons salt
1/2 Teaspoon ground pepper
Generous 1/4 teaspoon oregano
In a large dutch oven or heavy pot with lid cook bacon pieces over medium heat until slightly crisp.
Add the onion and continue cooking until the onion is limp.
Add the garlic in the last minute and continue cooking.
Add the beef a little at a time by crumbling into the pan and brown.
Drain the contents of excess fat.
Add the remainder of the ingredients (except salt) and stir well. Bring to a low boil and then turn heat to low for simmer.
Cover the dutch oven or pot and simmer. Add salt after one hour of cooking.
Watch for need of more water especially in the first hours. Add as needed to keep a thin thin layer of liquid over the top.
Takes 2-3 hours to cook to tender beans.
Not enough heat? Add a little chili powder or a little more Schilling Mexican Seasoning.