Shirred Eggs Your Style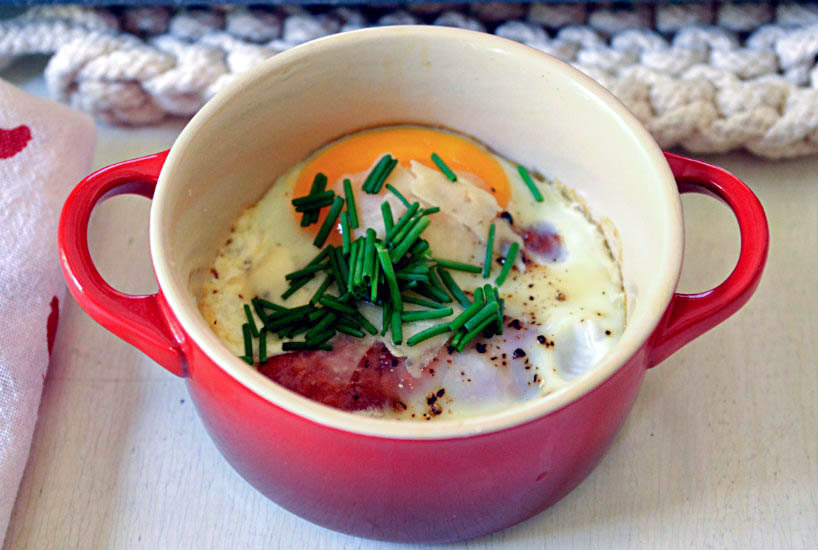 Shirred (Baked) eggs are easy, fast and a delicious way to cook eggs for one or many. Adding a little individual touch makes it extra special. Add lox, Italian sausage, breakfast sausage, bacon, or chorizo. I added linguica … no da. Oops! Make it vegetarian with bits of bell pepper, spinach, basil, onion (green or otherwise), squash…. But all this said shirred eggs can do it alone. Give it a try!
Recipe
Preheat oven to 350 degrees F.
This can be done in a well buttered muffin tin or use individual baking dishes for ease of serving.
Eggs-one per each serving
Half-and-half-one tablespoon per egg
1 Teaspoon butter per serving
Pepper to taste
Salt to taste-hold if using lox or salty meats
Garnish with curls of Parmesan and snippets of chive
Butter each muffin cup or individual baking dish with a tsp of butter.
Precook sausage or any fatty meat you are using to render off some of the fat. Linguica or chorizo should be sliced thin and sausage patties should be patted out thin. Don't over cook-you will bake 15 minutes more. Exception is bacon-cook until done. No need to precook lox.
If using vegetables, sauté in a little butter or olive oil until just slightly tender. Season.
For each serving place the meat or vegetables or combination in the bottom of the buttered cup.
Next add the egg. Follow this with one tablespoon of cream. Fresh ground pepper if you like.
Place dishes or tin into your preheated oven and bake for about 15 minutes or until eggs are cooked to your liking. Remember the eggs will continue cooking for a minute or so when removed from the oven.
Garnish and serve.
Yep, this can be served for dinner!