Easy Shredded Beef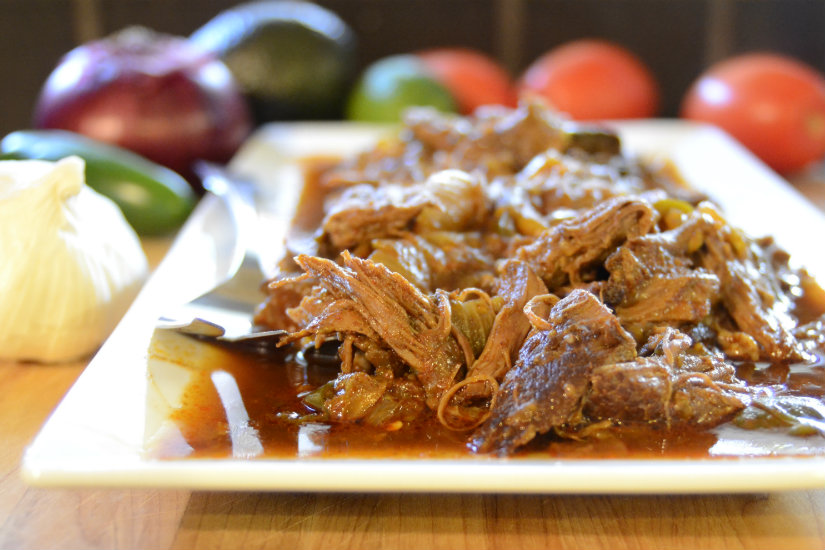 Tonight this meat was served simply … with bread. The extra is going into my taquitos. And when you find out how easy all this is….
You know the diversity of this meat, tacos, burritos, tostadas, enchiladas, sandwiches, over rice or potatoes. It's just a good recipe to know and this one is Easy.
I hope you enjoy this recipe as much as my family.
Recipe
Preheat oven to 350 degrees F
Makes enough for 4 servings as a main dish with leftovers
1 Tablespoon cooking oil
2 1/2 to 3 pounds beef chuck roast
2 Large jalapeño peppers-sliced with seeds (To tame the heat remove the membrane and seeds)
1 large yellow onion-sliced
4 Ounce can diced fire roasted green chili peppers
Two 1.25 ounce packets of Taco seasoning. I use McCormick (no MSG nor unpronounceable ingredients) regular and hot. (Buy regular only for a tame outcome. This recipe is moderate in heat from spices and peppers.)
2 Cups water
Heat the oil over medium heat in your dutch oven just large enough for the meat with a little space around the edge.
Add the meat and brown each side well.
After meat is browned add the onion underneath the meat and turn the heat down just a bit if needed to avoid burning the onion.
Next add the jalapeños. Again under the meat. Turn the meat over and move the onions and peppers as needed to get all sides caramelized.
Turn heat down to medium/low and slather the meat on both sides with the taco seasonings and canned peppers. Spread one side. Flip and cover the other.
Pour the water around the outside edge of the meat. Try not to run the water over the meat.
Cover the dutch oven with a lid and place into the oven preheated to 350 degrees. Cook for 3 1/2 to 4 hours or until the meat when tested falls apart easily.
When done remove from oven. Remove meat to a serving plate and let it rest 10 minutes. Pull apart with a fork. Serve in the juice or serve juice on the side.
Enjoy.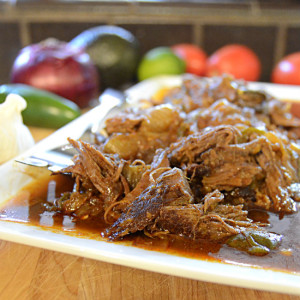 See my recipes Taquitos with Guacamole